Advance Website Features Improved Design
Website allows users to quickly access product information, service manuals and parts lists by product category or market.
---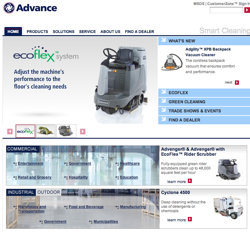 Advance announces its new website with an enhanced structural design and efficient navigation tools for improved product selection and comprehensive service information. Providing a clean layout, the new website allows users to quickly access product information—including service manuals and parts list—by browsing various product categories or searching within multiple vertical markets.
Featuring a simple navigation bar, users can easily locate Advance products or learn about Advance's comprehensive cleaning solutions, including its innovative EcoFlex System cleaning technology, green cleaning solutions and CleanLease Finance Program for a convenient, cost-effective equipment leasing option. The navigation bar also allows users to access detailed equipment service videos for proper equipment maintenance, including part replacement and battery care.
The improved, easy-to-navigate products tab provides a comprehensive, visible platform of Advance's entire product offering, effectively categorized by equipment type. With categories ranging from small walk-behind scrubbers to carpet extractors, users are guaranteed to find a product for their cleaning application. From there, users can select a listed product to learn about the product's performance and features, browse available models, download the most recent operator manuals and literature or watch a product video if available.
If users are unsure about the specific type of product needed, products can also be searched within commercial and industrial markets. Commercial vertical markets include, but are not limited to: entertainment, government, healthcare, retail and grocery, hospitality and education. The industrial sector includes a variety of both indoor and outdoor vertical markets for application specific equipment, spanning from warehouse, manufacturing and government to education, recreation and parking.
Advance is a brand of Nilfisk-Advance, Inc., one of the world's leading manufacturers of high-quality commercial and industrial floor and surface maintenance equipment. For more information on Advance equipment, call 866-429-8175 or visit www.advance-us.com