MSC Industrial Direct Launches New PRO-SAFE Catalog
New comprehensive safety products catalog features special monthly promotions.
---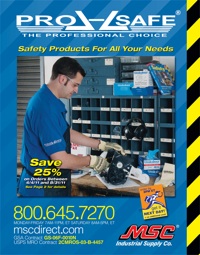 MSC Industrial Direct Co., Inc., has launched its new PRO-SAFE safety products catalog in both print and online formats. Exclusive to MSC Industrial Direct, PRO-SAFE is a comprehensive brand of personal protective equipment (PPE) and facility safety products.
The PRO-SAFE brand spans over 1,100 products within the PPE and facility safetycategories, many of which are proudly made in America. PRO-SAFE products are of the highest quality, meeting or exceeding applicable ANSI standards, and priced competitively for cost-conscious customers.
"Workplace safety is an important issue for our customers – it is critical to their continued productivity and overall success," said Anthony Testa, Business Manager – Safety at MSC Industrial Direct. "As a comprehensive metalworking solutions provider, we understand the importance of proving the highest quality safety products. And, as the exclusive supplier of the PRO-SAFE brand, we help ensure that our customers maintain the highest safety standards day in and day out."
From now until August 31, 2011, the PRO-SAFE print and online catalogs will feature a 25% discount on a different product category each month. Second quarter promotions include discounts on hand and arm protection, head and face protection and matting products.
For more information on PRO-SAFE products and/or to request a catalog, please visit http://www.mscdirect.com/PROSAFE.