KNIPEX-Tools Promotes Todd Shumate to North America Sales Manager
Will drive all sales growth in Canada and wholesale distribution channel in North America.
---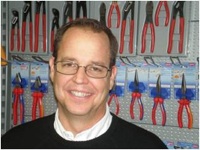 KNIPEX-Tools, the largest manufacturer of professional quality pliers on earth, recently promoted Todd Shumate to North America Sales Manager. Todd's responsibility now includes sales for all of Canada as well as management of the wholesale distribution channel throughout North America. Todd's extensive experience in sales management and market planning have proven to be huge assets to the KNIPEX Tools LP team.
Prior to joining KNIPEX in December of 2008, Todd was Regional Sales Manager at Minerallac / Cully where he managed independent representative agencies and developed territory sales goals and objectives to maximize market penetration. Todd also held Regional Sales Manager roles at Progress Lighting / Hubbell Lighting and Klein Tools, Inc., as well as managerial positions at Dalloz Safety and Chase Ergonomics, Inc.
KNIPEX Tools LP is proud of Todd's constant dedication to putting together effective and profitable sales strategies and his desire to create unique marketing plans to increase awareness of the KNIPEX brand and portfolio.
Alan Sipe, President and General Manager of KNIPEX Tools LP, commented on Todd's recent promotion: "Todd is a results-oriented sales leader and we are fortunate to have him leading our North American distribution sales team."
Todd's promotion is effective immediately and he has already started meeting with new customers in the wholesale distribution channel. KNIPEX Tools LP is proud to call Todd "one of their own" and is looking forward to seeing Todd thrive in his new role.
For more information, visit www.knipex-tools.com