Activant Offers Real-time Delivery Verification on Mobile Phones
Proof of Delivery Application for Apple and Android OS.
---
Activant Solutions Inc., a leading technology provider of Enterprise Resource Planning (ERP) software for distributors and specialty retailers, announced the availability of a new Activant Proof of Delivery (POD) application for its Activant Eclipse, Prophet 21 and Prelude platforms. Created for the iOS™ (for Apple mobile devices) and Google Android operating systems to take advantage of available development tools, multiple devices and multiple carriers, this POD application has been enhanced with special features to assist distributors in confirming and coordinating deliveries. In the future, Activant intends to extend the module to other operating systems, such as Blackberry and Windows Mobile.
"Activant Proof of Delivery is our latest addition to the Activant Distribution Suite (ADS)," said Kevin Roach, executive vice president and general manager of Activant's Wholesale Distribution Division. "ADS applications are compatible with of Activant's 'go-forward' distribution ERP platforms. This strategy allows customers to justify new modules on the basis of the incremental ROI they deliver, rather than simply keeping up with underlying platform technology shifts." Roach continued, "It's also a great example of the highly mobile and collaborative application strategy that we think will define ERP platform evolution for the foreseeable future."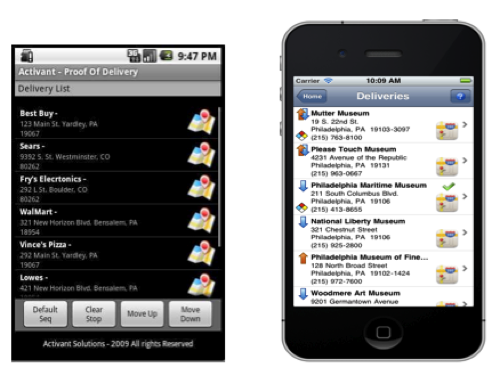 On the Activant Eclipse, Prophet 21 and Prelude ERP platforms, the Activant Proof of Delivery module now supports:
Order Delivery
View notes/comments based on an order or stop.
View the details of the orders for each stop.
Capture signatures and receiver name.
Clock-In / Clock-Out functions for drivers when arriving at a delivery, to know how long they are at a stop.
Ability to record issues that may arise at a stop; e.g., could not deliver, location closed, etc.
Quantity Adjustment at Delivery
Allows for updating the quantity on a delivery to make changes per item at the stop, ensuring accuracy of the delivery for customers.
Updated quantity synchronized in the ERP during import.
Return Material Authorization (RMA) Pickup
RMAs created in the ERP can be added to the delivery list for pickup at the customer site.
Driver can mark the RMA as completed and confirm that the material has been received.
The RMA quantity can be edited to ensure the correct quantity is returned.
Key new features of the Activant Proof of Delivery module for specific platforms include:
For the Activant Eclipse and Prophet 21 platforms:
View location maps and access driving instructions.
Hyperlinked contact numbers for ease of use.
Indication of orders with Hazmat items.
Ability to take photos and attach them to the order in lieu of (or in addition to) the signature as proof of delivery.
Incremental uploads to allow the delivery list to be updated as the stops are completed, allowing for quicker invoicing.
For the Prelude platform:
Over the Air (OTA) delivery list download and sending, enabling the lists to be updated while the driver is still on the road.
For the Activant Eclipse and Prelude platforms:
On COD orders, the driver is prompted with a message indicating the amount to be collected at the customer site.
For information, e-mail distribution@activant.com, or call 1.800.776.7438, press 1. For information about this particular product offering, Activant customers should contact Activant Direct Sales at 1.800.776.7438, press 2, or e-mail insidesales@activant.com.