Coxreels Expands Manufacturing Capabilities
Capacity to double by year-end.
---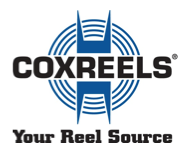 Coxreels is proud to announce the expansion of its manufacturing capabilities, which will double capacity levels by the end of 2011. Seeing a major increase in sales throughout 2010, Coxreels took the opportunity to expand its manufacturing abilities.
The additional space will provide manufacturing with the capacity to build reels more proficiently allowing for continued growth of the company.
Coxreels continually works to improve customer's overall value and focus on optimizing the process flow to keep an efficient production system for today and tomorrow's businesses. This transition will enable Coxreels to continue providing customers with the finest and most reliable hose, cord, and cable reels.
Coxreels carries on its belief in unmatched craftsmanship and dedication by providing high quality, professional-grade reeling systems with unique features, as well as superior customer service and customer satisfaction. Customers can be assured that Coxreels makes the required product the very best it can be and maintains the highest level of service available in the industry. Coxreels' commitment to innovation, quality and integrity is why the company remains the recognized industry leader.
For more information on our product line, please contact Customer Service at 800-COXREEL or visit our web site at www.coxreels.com, Email: info@coxreels.com.