Foresight Safety Glasses Outfit Workers at Ground Zero
Workers on all four World Trade Center work sites are wearing Foresight Safety Glasses as their main Eye Protection.
---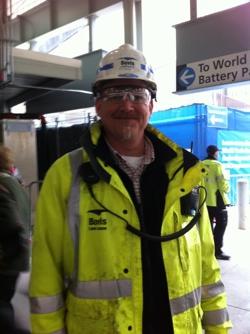 GROUND ZERO, NYC- Foresight Attachable Safety Glasses is proud to be outfitting many men and women working at Ground Zero. Foresight Safety Glasses recently launched a new line of Attachable Safety Glasses that provide the utmost in Safety, Comfort, Convenience and Compliance. Workers constructing on all 4 WTC sites are wearing Foresight Safety Glasses as their main Eye Protection.
Over the last 2 years Foresight has proven to SAVE the companies who mandate our product over 65% of their Safety Glasses Budget. In this troubled economy, Foresight worked diligently to be able to offer a safe and budgetary product line.
Our product line includes 4 Lens Tint options, Clear, Amber, Blue-Mirrored and Yellow and inexpensive Replacement Lenses are available. Foresight Safety Glasses are anti-fog treated and meet ANSI Z87.1 1-2003 standards for high-impact eye protection.
Foresight Safety Glasses are designed with comfort in mind. They do not irritate your ears or slide down your nose because they attach to your hard hat, not to your head. They are especially useful in the cold weather as hats and hooded sweatshirts can be worn without any fogging up or allowing cold air penetrate the hat. They are adjustable and can be raised or lowered under the brim of the hard hat. There are slots designed to hold corded ear protection for a complete head protection system- if you have your hat you have your safety glasses and ear protection.