Evergreen Selects Distributors and Suppliers of the Year
Top three companies honored by category and tier.
---
The Evergreen Marketing Group has recognized three distributor members and three manufacturer partners as 2010 Member or Supplier of the Year. The awards were presented at the group's annual Partnership Conference in April.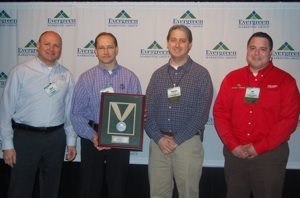 Earning distinction as 2010 Distributor Member of Year were:
Acme Tools of Grand Forks, ND (Tier 1)
Bailey Tools & Supply of Louisville, KY (Tier 2)
Philipps Brothers Supply of Amherst, NY (Tier 3)
Earning distinction as 2010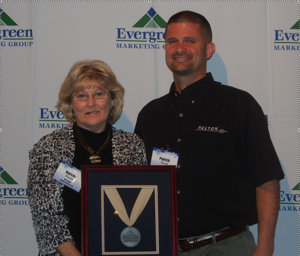 Preferred Supplier of the Year were:
Milwaukee Electric Tool Company (Tier 1)
Relton Corporation (Tier 2)
Tenacious Holdings/Ergodyne (Tier 3)
The awards were created to recognize the top distributors and manufacturers based on a multiple criteria. Distributors and manufacturers were first divided into three tiers based on size. Within each tier, the distributor and manufacturer were then ranked based on a number of criteria including: contribution to the group, growth, participation, and member and supplier input.
George A. Sheatz Excellence in Education Award
The Evergreen Marketing Group awarded its seventh annual George A. Sheatz Excellence in Education Award to the top manufacturer instructor participating in the group's 2010 training program as well.
Supplier instructors are rated by students and Evergreen training center staff during each school. Those instructors who achieve the highest ratings earn the award. Three individuals receive the prestigious award for their work in the 2010 training year. Winners were:
Patrick Kearl of Relton Corporation;
Mike Fraser of Stabila Company;
Wil Granger of Stanley Black & Decker/CDIY.
The award is named after George A. Sheatz, a retired tool and fastener distributor currently living in Prescott, AZ. Sheatz was instrumental in Evergreen's training & education programs for nearly 20 years.
The Evergreen Marketing Group is a member-owned cooperative organization founded in 1989 by six construction/industrial supply distributors. It currently consists of 71 distributors with more than 260 locations in the United States and Canada and has combined revenues of over $1 billion dollars. The group is focused on driving growth and profitability of its distributors and preferred suppliers through an on-going program of training & education, business development and partnering. Evergreen maintains a state-of-the-art 17,000 square foot training center in Farmer's Branch, Texas and offers the industry's only professional certification program for distributor sales people.
For more information, contact Kevin Higginbotham at 1-800-859-8733.