KNIPEX Named Best Hand Tool Supplier by German Tool Distributors
Takes award for third consecutive year.
---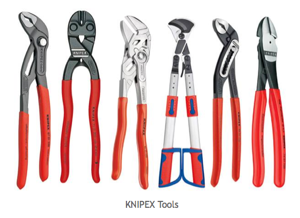 Germans know a thing or two about hand tools, so when they present an award for hand tools, it's a very big deal. KNIPEX is excited to announce that it was named the Best Hand Tool Supplier by German tool distributors for the third consecutive year.
A survey conducted by the ZHH Industrial Distributors Association ranked international hand tool manufacturers on five different criteria related to customer oriented performance. KNIPEX not only scored the highest total average for the five areas but also received the highest marks in regards to product innovation.
Ralf Putsch, CEO of KNIPEX-Werk, acknowledged this recent achievement: "We are delighted to receive this recognition from our customers. This further encourages us to find ways to improve our performance and service to our customer base. We continue to focus our time and energy on product innovation and offering pliers of the highest quality."
KNIPEX has seen consistent growth over the last year and is looking to expand sales operations in the Middle East. Plans are currently in place to open a sales subsidiary in Dubai this fall. KNIPEX's Sales and Marketing Office in North America also continues to see significant growth and has added several members to its team over the last two years.
The entire KNIPEX organization is proud of these great achievements. The company remains dedicated to creating tools designed with the professional tradesman in mind and offering products that make its customers' projects and lives easier and more efficient.
Learn more at www.knipex.com