toolhangerz Launches New Website
New U.S. company produces custom tool hangers for for workshops and retail displays.
---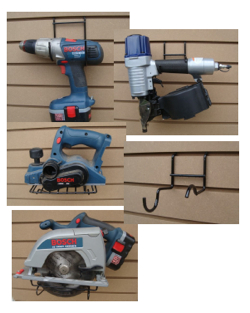 toolhangerz, ltd. is excited to announce the launch of its new website,
www.toolhangerz.com
, which offers custom-designed tool hangers and display racks for tool storage. The hangers are designed for power tools used in workshops, garages and construction settings. They can also be used for retail product displays.
The hangers are universal and are designed to work with all brands of pneumatic,
gas, electric and battery nailers and staplers, power saws, routers, sanders, grinders and drills along with other items designed specifically for these tools. The tool hangers offer an easy-to-use mounting system for standard pegboard, slatwall or
wire gridwall applications.
"Having worked for an international tool company for many years and developing
hangers that worked with those products, I was surprised when I began looking
for the same types of hangers for my own use. They weren't available in any retail
stores or online. So I decided to work with some American manufacturers to bring
these products to market," explains Jim Browning, president of toolhangerz, ltd.
"We are proud to feature products made in the USA."
Products can be ordered directly from www.toolhangerz.com and will be available
in June 2011.
For information on becoming a dealer or distribution partner, contact
jim@toolhangerz.com.