Keson Wins NRHA's Top Packaging Award for Long-Run Measuring Wheel
Tool manufacturer builds on momentum of revamped company brand image.
---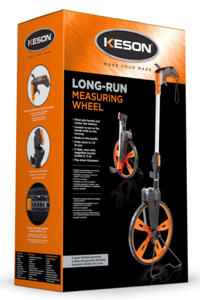 Keson Industries, a leading supplier and manufacturer of innovative, high-quality, measuring and marking tools, announced that its new Long-Run Measuring Wheel received the North American Retail Hardware Association's (NRHA) Gold award for outstanding product packaging.
The packaging for the RRT12 long distance wheel, which was introduced to the market in March, was judged on the following criteria: overall shelf and sales appeal, graphic design, innovation, packaging efficiency, shelf life and selling features.
"The RRT12 package offers an excellent example of Keson's product packaging, which has been completely revamped, with an emphasis on quickly and clearly communicating the attractive, rugged and easy-to-use product contained within the box," said Jeff Capstran, vice president of sales and marketing, Keson Industries.
Keson measuring wheels are designed for professionals who require long run measuring estimates in industries such as construction, land surveying, paving, civil engineering, irrigation, landscaping, traffic safety, athletic, appraisal/estimating, maintenance, golf course design, and property insurance.
The Chicago-based integrated brand design realization firm Kaleidoscope helped Keson develop a sturdy and compact packaging solution that positions Keson as a leader and innovator in the industry for measuring and marking tools.
"The packaging is bold in design but simple and straightforward in its delivery of feature/benefits of the products," said Carrie Mapes, director of account strategy, Kaleidoscope. "The packaging has easily identifiable imagery on the box showing the newly enhanced features of the product and how they will increase performance and durability of the product. In the measuring and marking industry, this packaging will definitively differentiate Keson from its competition and garner attention in the retail space."