Swanson Speed Bevel Named A Top Tool at Hardware Show
Wins Editor's Choice Award from Popular Mechanics.
---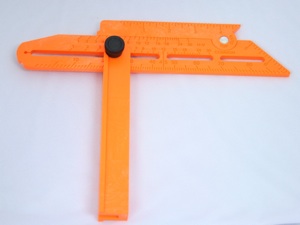 For the second time in four years, an innovative product from Swanson Tool Co. has won the nation's most desired new tool award. The Swanson Speed Bevel captured the exclusive Editor's Choice Award from Popular Mechanics at the National Hardware Show (NHS) in Las Vegas this May. In 2008, Swanson's Wood Magnet won the same prize.
The unique Speed Bevel is the first tool that transforms instantly from a Speed Square into a sliding T-bevel, two of the most used tools by builders, remodelers and carpenters. It's actually five tools in one - a framing/rafter square, a try square, a miter square, an angle finder/ protractor and a T-bevel. Read the Speed Bevel news release here.
More than 3,700 exhibitors from around the world gathered at NHS to promote their Next Big Thing to a Who's Who of home improvement buy­ers including Lowe's, Home Depot, Sears, Ace, Home Hardware, Amazon, Wal-Mart and hundreds of other industry buyers and executives.
"Our editors test hundreds of tools over the course of the year so we can tell our readers which products are the new must-haves," said James Meigs, editor-in-chief, Popular Mechanics who presented the awards.
No honor signifies a successful product introduction at the NHS more than winning the exclusive Editor's Choice Award from Popular Mechanics. Of the several hundred new products introduced at the show, the home and feature editors of Popular Mechanics chose fewer than 10 to receive the prestigious award this year, including the Speed Bevel.
"We are thrilled to honor this year's winners and can say with confidence that these will be on the wish list of professionals, home mechanics and tinkerers alike in the year ahead," Meigs said.
Swanson's unique Speed Bevel costs less than $9. Its composite nylon-filled material is ultra durable and won't mar wallpaper, paint or other delicate surfaces. And it folds to just over one inch high, so it fits easily in a toolbox, tool belt or even a pocket. Learn more at www.swansontoolco.com