ISA announces Golden Eagle Employee Recognition Program
New program helps distributors laud employees with 35-plus years of service.
---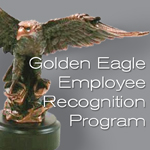 The Industrial Supply Association has introduced an industry-wide recognition program to enable companies in the Maintenance Repair Operations and Production Industrial Supply Channel to recognize the contributions of long-time employees. The ISA Golden Eagle Award provides a means for employers to acknowledge their dedicated men and women with 35 years or more of service to the industrial supply industry.
"Employers looking for a terrific gift for anniversary celebrations, retirement functions or just a way to say 'Thank You' for their employees' contributions now have a meaningful way to do so through the leading organization in the industry, the Industrial Supply Association," said John Buckley, executive vice president of ISA.
Companies who wish to recognize their employees receive the following benefits:
An inscribed Golden Eagle award they can present to the employee, informally or at a formal event;
A letter from ISA to the recipient acknowledging their contributions to the industry; and
Enrollment of the honoree in the Golden Eagle honor roll on the ISA Web site at www.isapartners.org
For more information about this cost-effective way to recognize longtime employees and retirees, visit the ISA Website at www.isapartners.org.