Wind-lock Adds QR Codes to Sales Staff Business Cards
QR codes will link smartphones to short videos introducing each salesperson.
---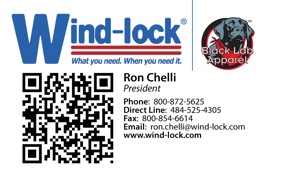 Wind-lock continues to recognize the opportunities of new technology, and is now using Quick Response (QR) codes on the business cards of its sales representatives. The code, when scanned with a smartphone, will take the viewer to a short video introduction of the person named on the business card.
"We recognize that these codes will allow us to do many things in the future," explains Ron Chelli, President of Wind-lock. "We want to familiarize our customers with these codes and how they can be useful to them. An immediate opportunity to use them was to create these extremely personal business cards for our team."
A QR code looks similar to a puzzle-like bar code. Any smartphone with the ability to download a QR code reader application, such as Red Laser or Neo Reader, can be used to scan the code and connect to an Internet link. There are many free, quick and easy applications to download.
In the future, look for Wind-lock to integrate QR codes into other innovative uses within the sales/marketing of its products and services.
Serving the construction industry for more than 25 years, Wind-lock has expanded its offering beyond tools and accessories for the EIFS industry. The company has grown to serve other segments of the residential and commercial construction industries including air sealing, drywall, exterior wall systems, insulation, moisture management and weatherization. Delivering "What You Need, When You Need It", Wind-lock ships its products nationally and internationally from five warehouses located across the country.