NetPlus Alliance Celebrates First Year of GAIN Program
Program to return with more chances for cash bonus rewards.
---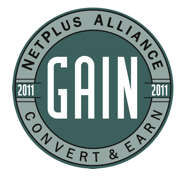 NetPlus Alliance, North America's largest buying group for industrial and contractor supplies distributors, is celebrating huge success in its inaugural year of instituting a new incentive program.
GAIN, a revolutionary supplier conversion program, rewards member distributors with cash bonuses for taking on a new product line or by converting existing business through one of NetPlus Alliance's 120 product suppliers.
GAIN 2010 resulted in more than $1.2 million in new business. In all, 63 NetPlus member distributors added 90 product lines which they had never sold.
GAIN 2011 is underway again this year for current members and new accounts.
"The success of GAIN is a tribute to our member distributors that used the cash incentives to develop new supplier relationships and grow their business for the long term," said Dan Judge, president of NetPlus Alliance. "I'm proud of the fact that NetPlus Alliance invested its capital to help our distributors build a strong base to grow as we exited the recession of 2008 and 2009."
Manufacturers and wholesalers saw their GAIN matching programs as an outstanding investment toward long-term sales growth.
"NetPlus has been a great partner to Lyon, allowing us access to distributors we would not be able to target on our own," said Brice Hiner, National Accounts Manager at Lyon Workspace Products. "We see NetPlus as a liaison, working between distributors and ourselves to promote our newest products and services. We use NetPlus as a channel of communication for product launches and corporate changes to get our message to distributors in a cost effective and timely manner."
Lyon is a major NetPlus Alliance supplier that added two distributors during 2010 as part of GAIN. One of the new distributors did over $45,000 in purchases the first year and earned a $1,000 bonus from NetPlus Alliance and a matching $1,000 from Lyon.
Organic growth for NetPlus Alliance in 2010 was an impressive 25.8 percent. That number represents core growth after taking out new members, new suppliers and business services suppliers. It compares very favorably to the US Census Bureau's report of business growth in 2010. Their data shows that industrial supplies sales grew 22.2 percent and construction supplies sales grew at a rate of 8.1 percent.
NetPlus Alliance also added 24 new member-distributors in 2010.
"The GAIN incentive program has proven to be a catalyst for the NetPlus Alliance supplier programs and I am thrilled with our first year results," said Jennifer Judge Murphy, NetPlus Vice President & COO. "The initial concept of the program was to encourage our members to 'get back in the game' after the challenging economy of 2009. GAIN has done just that: brought new business to 50 of our suppliers, many with multiple new accounts. Our distributors reap a double benefit, with an added GAIN bonus in the year-end rebate check we provide and by growing their business in a new direction with a NetPlus supplier."
NetPlus distributors get started with GAIN by looking at the NetPlus supplier list and reviewing it against their existing vendor base. Participants choose a NetPlus supplier that they have no previous purchase history with or grow existing purchases of less than $1,000 and meet or exceed one of the GAIN purchase and reward levels. NetPlus will track the sales and participants can start at any time in 2011. Multiple GAIN bonuses can also be earned by distributors throughout the calendar year.
"We have appreciated our relationship with NetPlus as they continually try to leverage the aggregate volume of many smaller independents into programs with vendors that give us the ability to compete with the "big boxes" of the industrial world," said Ray Long, Purchasing Manager for Summers Hardware & Supply Co., which was the top GAIN earner in 2010 with six new NetPlus suppliers added. "GAIN is a great example of an innovative way to produce a win-win for both distributor and vendor."
Through its strong marketing programs, NetPlus Alliance works to steer distributor purchases to its 120 product suppliers, which cover a broad spectrum of industrial MRO and contractor product lines, including abrasives, cutting tools, power tools, hand tools, material handling products, fasteners, janitorial supplies, paints and lubricants, valves and fittings, safety products and much more. NetPlus Alliance leverages its 410 distributor members' $9 billion in collective purchasing power, to provide profitable rebates, negotiated group pricing, incentive programs and special promotions.
Additional information about the GAIN 2011 program and membership opportunities can be obtained by contacting NetPlus Alliance, (716) 438-2014 or by visiting www.NetPlusalliance.com.