Contractor Supply Adds New Videos
Video channel adds 11 new videos this week.
---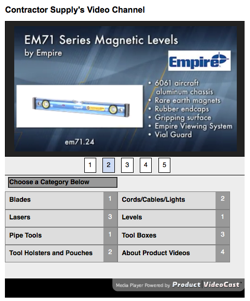 Contractor Supply magazine's new Video Channel grows this week with the addition of 11 new product videos across 10 product categories.
After just one week live online, the new Video Channel is attracting strong interest across the industry. This unique, targeted video platform combines the best of online communication and marketing tools with state of the art production and high-definition video quality in a secure environment that is free of chatter and obtrusive pop-up advertising.
Each week we will bring you new videos from our sponsoring manufacturers. The growing video library will be organized by familiar STAFDA Directory-style product categories such as Lasers, Blades, Cords/Cables/Lights, Pipe Tools, Tool Boxes and so on for easy reference.
How to Place Videos on Our Channel
Do you already have product videos that are ready to go? Call or click below to reach your account representative.
How to Get Videos Produced for Your Company

Would you like professional help producing videos for your company? Click here to contact our partners at Product VideoCast. The pros at Product VideoCast are tool and distribution industry veterans who know the business and speak our language. They use the latest in High Definition (HD) video equipment and editing systems to deliver video demonstration and training aids with punch, power and clarity that isn't available anywhere else. Learn more about them at www.productvideocast.com.