Exclusive: Midwest Geospatial Equipment Dealer Volunteers to Help Ugandan Development
Springfield-based distributor has donated time and Topcon equipment to Uganda since 2000.
---
The need for land surveying is not confined to developed countries. Just ask Ryan Zweerink, president of Springfield, Mo.-based Ozark Laser and Shoring. Since 2000, Zweerink and his company—which sells, rents and services laser and global positioning equipment in southwest Missouri, northwest Arkansas, southeast Kansas and Oklahoma from four locations—has donated time, expertise and equipment to the development of several villages in Uganda, a country with a troubled past.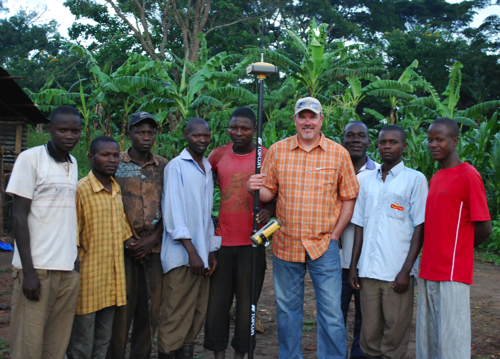 Uganda has a long, complicated history characterized by British colonialism, subsequent independence and cyclical upheaval as various governments have taken control and been overthrown by resistance movements. War and genocide have marked this struggle over the past century, tearing families apart and decimating villages. Religious tensions have also fragmented the society and driven much of the upheaval. But key stabilizing developments in recent history have been the rise of the National Resistance Movement about 30 years ago and the drafting of a new constitution in 1995, leading to democratic elections and a semblance of stability. An AIDS epidemic is the latest catastrophe ravaging Uganda and many parts of Africa, however.
Zweerink visited Uganda for more than a week in May 2011 with a twofold mission against this backdrop of new hope: go to a planned new village site and survey a 210-acre agricultural field from the official boundary inward to design effective drainage; and conduct a topographical survey of the village so that it can be designed based on previously constructed villages. Zweerink and Ozark are assisting the efforts of Watoto Child Care Ministries which, over the past 17 years, has endeavored to construct the building blocks of a developed society. Two major Watoto initiatives in Uganda are constructing children's villages and providing them with sustainable food production.
Watoto established three other villages prior to the construction of its newest one, Lube, in Kampala, Uganda's largest city and capital. Bbira and Suubi are located in Kampala and another was constructed in Gulu in northern Uganda. The latter was constructed to aid former child soldiers and their mothers with medical assistance and schooling, a church and homes. The villages are designed to represent a traditional dwelling for many ethnic groups in Africa and are a refuge for orphaned children literally wandering the countryside.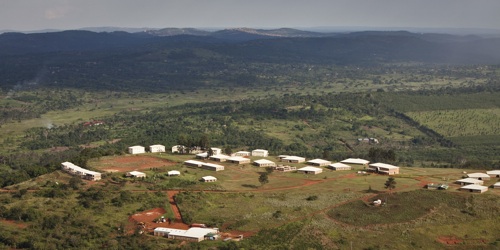 Each contains a nursery school, a kindergarten, primary school, high school, vocational training center, water project, medical clinic and a multi-purpose hall for use as a church and community center. A "Watoto family" consists of a housemother who cares for eight children age 2 and older; those under 2 years old are cared for at a separate Baby Watoto facility. Houses within the villages are designed to have running water and a bathroom, which are rare in rural Africa. In another Watoto program called Father's Heart, men from the village church regularly visit the children in their villages and provide essential male role modeling.
Sustainability is another key facet of Watoto's vision of rescuing 2 million children in Africa by 2023 by replicating its models throughout the continent; as of mid-2011, Watoto had aided about 2,300 children. An optimal Watoto village model requires 150 acres of land and will accommodate 1,000 children. This means access to water, landscaping, septic systems and electricity. Besides actually feeding the villages with agricultural, meat, dairy and poultry products, the farms will also provide employment for the children and the opportunity to learn new skills. The villages also have production units where students can learn to manufacture doors, windows and shutters while learning how to weld and fabricate, as well as use carpentry skills to build tables, chairs, chalkboards and cabinets.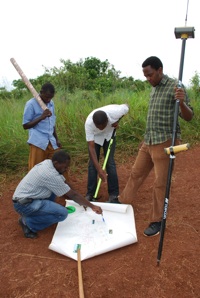 Appropriately enough, geography played a role in bringing Watoto and Ozark together. The office of Brent Smith, international director of development for Watoto, is located near Ozark's headquarters in Springfield, Mo. Smith oversees the loading of equipment into containers and logistics for eventual shipment to Uganda and one day noticed Ozark's giant forklifts loading shoring trench boxes onto trucks. Eventually, Ozark agreed to donate some forklift operating time to help Smith with staging and loading the equipment. The relationship deepened when Watoto made a presentation about its work in Uganda at a fundraising event and asked if any attendees wanted to get involved and Zweerink volunteered.
Since that time, Ozark has sponsored several Watoto children in Uganda, provided Watoto with a rotating laser and an automated grade control system for a dozer that allows workers to strike off concrete flatwork at specified elevations. Ozark also has made regular financial contributions to Watoto through the ministry's sustainability program. Many small churches that have not established their own mission program and small corporations are involved in the program, which directly funds activities such as purchasing land and starting up small businesses to bring sustainability to the villages.
Prior to his trip to Africa, Zweerink saw an opportunity to use some of his dealership's technology to create a three-dimensional village model, making layout easier for Watoto's construction staff on the ground. His regional sales representative at Topcon Positioning Systems, Bill Painter, made him aware of Topcon's Educational Partners Program, which normally provides financial assistance and training through Topcon's dealer network to more than 600 colleges and universities worldwide that offer land surveying or geospatial studies. A
lthough the Watoto-Ozark relationship is outside of the normal scope of the program, Zweerink received a significant discount from Topcon on a HiPer GA real-time kinetic (RTK) GPS+ receiver and FC-250 data collector equipped with Pocket 3D software, and passed the savings along to Watoto. Watoto engineers and surveyors, who are educated and hired from inside Uganda, were trained on the proper use of the equipment. Many have experience working with total stations and theodolites but have never operated GPS receivers. Zweerink said that the software—which allows contractors to determine the location of structures and utilities in real time, and store as-builts—was particularly helpful.
"Our task was twofold: train the Watoto engineers how to shoot control points and perform construction staking—and log topographic survey data so we could complete a design." Take-off Professionals, a Peoria, Ariz., provider of data and 3D models, is developing the village models for Watoto. "They're going to try to do a better job moving forward with all of their as-built data, the locations of utilities," said Zweerink. "That is another reason why they needed the GPS—marking the locations of utilities in their villages—that's another task we worked on in training."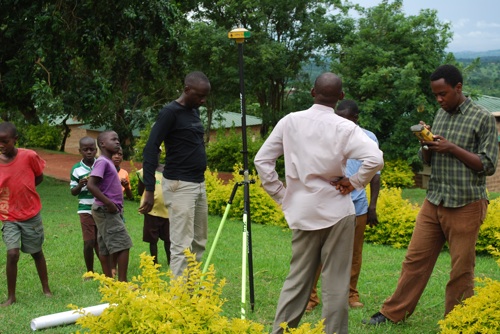 The surveying allows the villages to contain stormwater and prevent erosion on adjacent properties, said Smith. And, "Whenever we go in, we're able to secure the boundaries of the property and do the actual topography of the property with a site plan and layout that lets us utilize the property to its best potential." Ozark's training provides Uganda with valuable self-sufficiency, he adds. "Any time that we can go in and teach and train these people to do the work within their country, it has huge value," he said. "When you send somebody in who is very qualified at what they are doing and they are very good at teaching and training, if they can back off and release the villagers to do the work, I don't think you can put a price on that."
A positive aspect of the work was the satellite reception in Uganda, Zweerink recalls. Because Uganda is located near the Equator, he was able to receive signals from up to 20 satellites during the best times of the day, which provided reception through heavy brush. "We were tracking 20 satellites and using maybe 17 at times," he said. "That's pretty impressive. We had some tree canopy situations. Most of the agricultural land had been cleared and we did have a pretty clear view of the sky in most places, but as we worked around the boundaries, I was really surprised that it worked, to be honest."
Zweerink returned with a new appreciation for the work that Watoto is doing in Uganda. "They're making huge strides compared to where they were 20 years ago," he said, adding that he is particularly impressed with how the mission is facilitating self-sufficiency in the villages. "One of the most amazing things there was the people's ability to take natural resources that are available to them and turn that into materials that can be used in structures and such—it's amazing what they're doing over there.
"They're doing absolutely miraculous work—I can't tell you how it touches your heart. They're serving children who otherwise would be orphans because their parents died from contracting aids or some disease—mostly aids—or famine. Or, there are kids who literally were found in a ditch and somebody called Watoto and told them they had found a child."
Combined with the mission work taking place in Uganda, an inherent cultural optimism provides plenty of reason to hope for a better future, Zweerink concludes. "It's a smart society, a prideful society—you can tell by the way they dress," he said. "The men typically wear nice shirts and dress slacks and the ladies are dressed beautifully. Unfortunately, they don't have a lot—just a little shack or maybe they're sleeping in one little room, maybe in a brick structure with a metal roof—that's what they've got. But even though they're impoverished, you don't see a lot of people sitting around moping about it. The parents smile, the kids smile. They're happy to have the basic necessities of life."
Learn more at www.ozarklaser.com or www.topconpositioning.com
Don Talend of Write Results Inc., West Dundee, IL, is a print and e-communications content developer specializing in covering construction, technology and innovation.