Four-star General Stanley McChrystal to keynote ISA 2012 event
2012 ISA Product Show & Conference set for April 22-24 in San Antonio, Texas.
---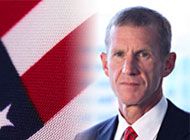 The Industrial Supply Association, the premier trade association representing the Maintenance, Repair, Operations and Production (MROP) Industrial Supply Channel, has selected former Commander of U.S. and International Forces in Afghanistan, General Stanley McChrystal, to deliver the Keynote presentation at its 2012 Product Show & Conference, April 22-24 in San Antonio, Texas, ISA Executive Vice President John Buckley announced. The event is expected to welcome more than 2,000 attendees and some 400 exhibitors for the largest event of its type within the Industrial Supply Channel.
"We're committed to providing our attendees with an outstanding experience," said ISA President Jack Schron of Jergens, Inc. "An inspiring presentation on leadership by one of the most recognizable leaders in our nation will more than deliver on our promise to provide the preeminent Industrial MROP Product Show & Conference in North America for our members and participants."
"We considered a number of great speakers for our upcoming program," said 2012 Product Show & Conference Planning Committee Chair Ed Gerber of Industrial Distribution Group. "General McChrystal truly exemplifies the leadership theme of this year's program and his inspiring message is sure to be one that keeps our attendees energized throughout the event and long after," he added.
General McChrystal's presentation is scheduled for Sunday, April 22 in the Henry B. Gonzales Convention Center and will be a key component of the education programming provided by ISA during the conference. The conference will be followed by a two-day Product Show featuring some 400 exhibitors.
Participants will learn from the former Commander of U.S. and International Forces in Afghanistan about CrossLead - Lessons from Combat. A dynamic, powerful speaker, McChrystal impresses audiences with field-tested leadership lessons. He stresses a uniquely inclusive model focused on building teams capable of the relentless pursuit of results. When old systems fall short, he believes true leaders must look for ways to innovate and change. Citing stories from his career, McChrystal reveals a four-star management strategy, stressing openness, teamwork, and forward-thinking.
Registration for the 2012 Product Show & Conference will open in December. For more information, visit www.isapartners.org or call the ISA office at 215/320-3862.