Lyon Workspace Products Publishes New Modular Drawer Cabinet (MDC) catalog
56-page guide covers 250 pre-engineered cabinets plus much more.
---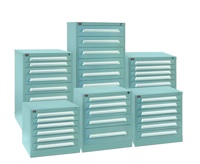 Lyon Workspace Products recently launched a new version of their Modular Drawer Cabinet (MDC) product catalog. Lyon offers a complete line of high-density storage cabinets and accessories that provide the maximum use of cubic space. Lyon modular drawer cabinets are the best solution for the secure, organized storage and retrieval of small to mid-sized products.
The MDC 56-page catalog features:
Made in the USA. Keeping jobs in America!
GSA Advantage
(250) Pre-Engineered Cabinets
Unlimited Customization
Ordering Guides with examples
(7) Standard color options
Plus:
Over Head Cabinets
Mobile Cabinets
Workstation Cabinets
Workbench Cabinets
Optional Bases
Optional Tops
Drawers in Shelving
Weapon Storage Cabinets
Spare Parts List
And much more . . .
Lyon Workspace Products, headquartered in Aurora, IL, is an innovator, manufacturer and marketer of storage systems and workspace products. Since 1901, Lyon has pioneered technologies and system solutions in the product categories of lockers, shelving, storage racking and modular drawer cabinets. Today, Lyon continues its commitment to helping distributors and end-users store and organize their products while maximizing workspace.
Contact Chris Rudella, Marketing Manager, at 630-892-8941.