General Tools Digital Sliding T-Bevel Earns This Old House Top 100 Honor
Selected from thousands as one of best new home products of the year.
---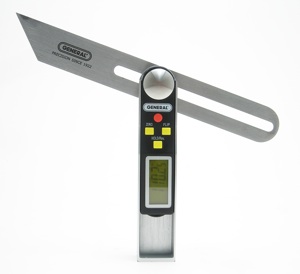 General Tools & Instruments is proud to announce that its new Digital Sliding T-Bevel (Model 828) is being honored in
This Old House
magazine's "TOH Top 100," a list of the 100 best new home products of the year.
The 2011 list marks the first annual "TOH Top 100" and includes items for people who love old houses and appreciate new and interesting ways to fix them up. According to the magazine, the editors hunted high and low to find the most unique, helpful and coolest home products in seven categories: Kitchen, Bath, Tools, Building Products, Outdoor Living, Home Tech and Finishing Touches. The Digital Sliding T-Bevel is included in the Tools category.
The complete list is featured in the November/December issue of This Old House, which hits newsstands beginning November 4. It can also be found online at www.ThisOldHouse.com/top100.
General's Digital Sliding T-Bevel is the first and only digital T-bevel on the market. Designed for professionals and DIYers, it is the perfect tool for measuring, storing and transferring inside and outside angles when doing construction and fine carpentry; building cabinets, furniture and picture frames; installing tile and more. It operates as both a T-bevel and a protractor. It saves time and increases accuracy as it takes the guesswork out of angle duplication and eliminates the problems associated with analog readings and manual measurement transfer.
This innovative precision specialty tool also received a 2011 Popular Mechanics Editor's Choice Award and is the newest addition to General's family of digital layout tools, all of which were designed in-house by General's engineering team.
To learn more about General Tools & Instruments, visit www.generaltools.com.