Powers Fasteners Continues Expanding in Key Markets
Adds Jeremy Woods to staff serving the Dallas, Texas market.
---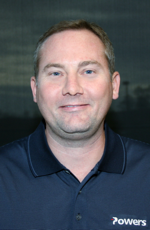 Jeremy Woods has joined Powers Fasteners as a sales representative for the Dallas market. Jeremy brings with him an extensive knowledge of the fastener business.
"Jeremy's prior work experience with a large competitor in the building construction arena has made this appointment easy," says Lenny Colasuonno, V.P. of Sales and Marketing for Powers Fasteners. "We expect great things from Jeremy in his new role."
Jeremy and his wife Allison will be relocating to McKinney, TX.
Powers Fasteners Inc., based in Brewster, N.Y., is a leading marketer of concrete anchoring systems and also offers an extensive line of adhesive anchoring systems, roofing fasteners, gas and powder actuated tools and fasteners, carbide drill bits and mechanical anchoring systems.
The company has been serving professional construction and plant maintenance markets since 1921, and has 25 regional sales locations in the United States as well as international locations throughout the world. For more information visit www.powers.com or call 1-800-524-3244.