Knipex Ratcheting-Action Cable Shears Receive Highest Honor at 2011 NECA
Earns Showstopper award at National Electrical Contractors Association Convention.
---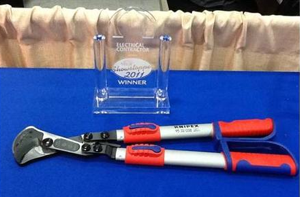 The new Ratcheting Action Cable Shears (model 95 32 038) from KNIPEX received the SHOWSTOPPER Award at the 2011 National Electrical Contractor Association's (NECA) Annual Convention.
The SHOWSTOPPER Award is one of the highest honors in the electrical construction industry and recognizes new products and services designed to make the electrical contractor's work easier and more efficient.
Forged from high-grade tool steel, the Ratcheting-Action Cable Shears not only allows the user to easily cut large cables, but also angle the tool head and adjust the handle length. This enables the tradesperson to work safely in confined areas such as ditches, wiring enclosures and ceilings. With an optimized cutting geometry in the blades, this tool provides an easier and cleaner cut than standard cable cutters.
The Ratcheting-Action Cable Shears from KNIPEX cleanly and easily cuts copper and aluminum cables up to 1 ½" (550 MCM). Constructed of high-strength oval aluminum tubing, the tool's telescopic handles can easily be adjusted from 15 ½" to 23 ½" at the push of a button. Although the Ratcheting Action Cable Shears is made of strong and durable material, the tool is lightweight and can easily be transported from destination to destination. For more information on this powerful cutting tool, visit the KNIPEX Web site.
KNIPEX, a world leader in design and innovation, is the proud recipient of the 2011 SHOWSTOPPER Award. We look forward to continuing to offer our customers the highest quality and most efficient professional-grade hand tools available.