Louisville Ladder to Unveil New Products at STAFDA
New products include redesigned stage platform, modular guard rail systems and longer extension ladders.
---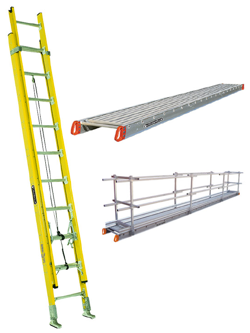 Louisville Ladder Inc., will unveil a series of new products at STAFDA's 2011 Annual Convention in San Antonio, Texas.
The research and development team rolled out an improved stage handle, which combines an ergonomic design with superior polymer technology. The redesigned P-Series stage platform handles are made with a more durable, high-impact polymer, increasing their strength by more than 100% over competitors' models.
The company has also developed a modular guardrail system to accompany its plank and stage platforms. To accompany this new system, Louisville Ladder unveiled an online guardrail selection tool that allows customers to easily and quickly determine the components they need to purchase to properly assemble a safe and effective guardrail.
The company has also expanded its existing product line to include a 32' and 40' version of the existing Type IA Fiberglass Extension ladder, whose previous maximum height was 28'.
For more information about Louisville Ladder Inc., please visit www.LouisvilleLadder.com.