Protecta Issues Safety Recall on Lanyards
Potential disconnection hazard has been identified in a limited series of shock absorbing lanyards.
---
Capital Safety is aware of a reported inadvertent disconnection during use of the locking snaphook used in a series of Y-shaped Protecta lanyards with twin elastic lanyard legs that both attach directly to the eye of the snaphook. The locking snaphook used on these lanyards is part number 9502573. The affected products are:
1340141 – Pro Stretch 100% Tie-Off Shock Absorbing Lanyard
1340161 – Pro Stretch 100% Tie-Off Shock Absorbing Lanyard
1340240 – Pro-Stop 100% Tie-Off Shock Absorbing Lanyard
1340250 – Pro-Stop 100% Tie-Off Shock Absorbing Lanyard
The affected lanyards subject to recall are also used in the following Protecta Kits:
1199977 – Protecta Promo Kit (Latin America only)
1199978 – Protecta Promo Kit (Latin America only)
1199979 – Protecta Promo Kit (Latin America only)
2199817 – Compliance In A Can Light
2199818 – Compliance In A Can Light
The recall includes all affected lanyards manufactured between July 2010 and October 31, 2011. Manufacture date is marked on the product label of each lanyard as: MFRD (YR/MO).

The Situation
In a particular configuration when the twin lanyard legs are pulled upwards simultaneously and the snaphook gets compressed against the d-ring, the combination of forces acting on both the locking mechanism and the gate opening of the snaphook may cause the snaphook to disconnect from the d-ring. (See photo)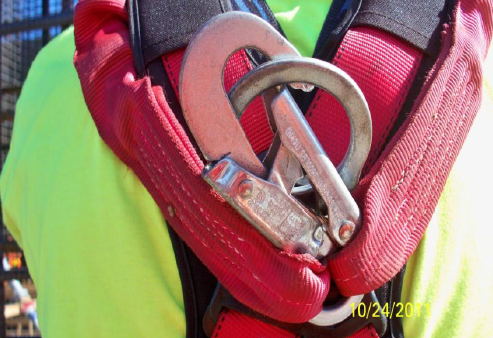 The identified reason for the inadvertent disconnection is the combination of a particular style locking snaphook together with twin elastic lanyard legs attached directly to the eye of the snaphook. Although there have been no reported falls or injuries associated with the use of this configuration lanyard, CS is committed to the safety of every worker at height using our products and we are determined to resolve any potential for inadvertent disconnection to occur for the reason described above.
The Solution
Capital Safety has determined that the appropriate solution to the identified issue is a combination of (a) an alternate snaphook and (b) a single lanyard connection to the eye of the snaphook. Accordingly, we have engineered a new version of the affected lanyards to take into account what we have learned about the combination of components on the Protecta shock-absorbing lanyards.
If you have a Protecta Pro Stretch or Pro Stop lanyard manufactured before November 1, 2011 in service (as identified by part numbers above), you should immediately take the lanyard out of service and call our Customer Service department at 800-328-6146 (prompt #1) to obtain a "QA" number for the return of the lanyard and to be provided with a new Protecta lanyard at Capital Safety's expense. The free lanyard applies only if the returned lanyard is in proper working condition as determined by Capital Safety; if not, charges may apply.
Alternatively, you may request a different model lanyard or an upgrade to the DBI line of lanyards, although charges may apply depending on your selection. Pending your receipt of replacement lanyards, end-users must use alternative fall arrest and tie-off systems.
Conclusion
Although we take field reports of product performance concerns very seriously, we want to reassure our customers of the following: (1) we have not had any reports of falls or injuries associated with this ANSI/CSA rated snap hook since we introduced the 9502573 model snaphook on our Protecta lanyards; (2) this snaphook is a catalog item that may be found on lanyards supplied by other manufacturers; (3) these snaphooks are capable of withstanding a tensile load of 5000 lbs without breaking or releasing; and (4) these snap hooks meet the requirements of OSHA 1910.66, OSHA 1926.502, ANSI A10.32, and ANSI Z359.1, they have been certified under CSA Z259.11, CSA Z259.12, and EN355, and they continue to comply with all applicable standards and regulations.
Based on the safety record of our products coupled with our rigorous manufacturing and certification testing, we have complete confidence in the safety of the new Protecta Pro Stretch and Pro Stop lanyard solutions.
Please direct any questions you may have to your Capital Safety distributor or to Capital Safety at 800-387-7484, Donna Sahlberg, Quality Manager ext. 5264, or Frank Courtemanche, VP Quality ext. 5224.