STAFDA 2011 Convention Concludes on High Note
Convention and Trade Show in San Antonio draws more than 4,200 industry professionals.
---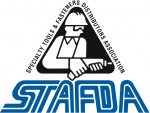 Proving that education, networking, new products and face-to-face interaction remain vital to the health of the industry, more than 4,200 distributors, manufacturers and reps convened in San Antonio this week for STAFDA's 35th Annual Convention & Trade Show.
Overall attendance this year equalled that of last year's highly energizing convention in Phoenix; however this year's Trade Show, with 796 exhibiting companies, exceeded last year's total by roughly four percent.
Sunday's educational sessions and seminars were heavily attended, particularly economist Alan Beaulieu's highly anticipated economic update.
Monday's general session featured 2011 STAFDA President Mike Kangas of Alaska Industrial Hardware and Terry Taylor of Wright Tool who warmed up the audience for an inspiring keynote speech by Captain Chesley "Sully" Sullenberger, "The Hero of the Hudson." Attendees filled the hall to overflowing to hear Sullenberger speak and they rewarded him with a standing ovation at the conclusion of his talk.
Watch for a detailed show report in the December 2011/January 2012 issue of Contractor Supply magazine.
The 2012 STAFDA 36th Annual Convention and Trade Show will be held November 4-6 in the Orange County Convention Center in Orlando, Florida.
Learn more about STAFDA at www.stafda.org.