L.B. White Launches New Web Site
New site features application and maintenance videos and Google Maps dealer locator.
---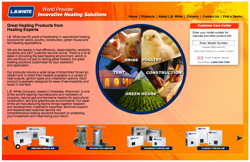 L.B. White Company, Inc. is pleased to announce the launching of its newly improved website at
www.lbwhite.com
. The site features a new look and design, and includes easy navigation through all heating products, giving the choice to select either the application, such as portable construction heat, or a specific product category.
24-hour technical support is available with many online tools including YouTube linked product maintenance videos, technical specification sheets, owners' manuals for new and older heater models, and heat calculators to help you decide the number of heaters needed to heat a space.
Visitors to the L.B. White website can use the handy Find-a-Dealer tab which incorporates Google Maps to find a L.B. White distributor in their vicinity. And for L.B. White dealers, a new dealers' only page provides quick access to all your L.B. White information. Visit them at www.lbwhite.com.