Ingersoll Rand Compressors Granted Class 0 Recertification
Oil-free rotary screw and centrifugal air compressors meet Class 0 per ISO 8573-1:2010.
---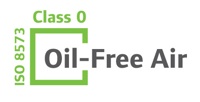 Ingersoll Rand is pleased to announce that its Class 0 certifications have been updated to comply with the ISO 8573-1 Class 0 2010 standard. The certifications were granted to the entire range of Ingersoll Rand air-cooled, water-cooled, oil-free rotary screw compressors (37 to 350 kW/50 to 450 hp) and water-cooled, oil-free centrifugal compressors (160 to 5000 kW/200 to 6,700 hp) by TÜV Rheinland, a global leader in independent testing and assessment services.
Air purity is essential to many critical processes in the pharmaceutical, food and beverage, electronics and textile industries. In 2001, the Class 0 certification was created in response to industry needs for oil-free air. Class 0 is the most stringent air quality class and certifies that a compressor discharges air free of added oil aerosols, vapors and liquids. Ingersoll Rand has held this prestigious certification on both its oil-free centrifugal and rotary screw air compressor technologies since 2007.
Ingersoll Rand was the first manufacturer in the world to be certified Class 0 for centrifugal air compressors.
"Our products had to pass rigorous tests to qualify for recertification to the revised Class 0 standard," says Paul Maguire, portfolio manager for Ingersoll Rand. "This demonstrates the company's desire to comply with the latest technical standards in the industry, and our ongoing commitment to providing best-in-class equipment to our customers."
Ingersoll Rand oil-free compressors produce cleaner air, decreasing the risk of product contamination, high rejection rates and expensive cleanup. The systems are designed for easy maintenance, minimizing the need for lubricating oil, inline filters and oil/air separator components to lower customers' operating costs. Ingersoll Rand oil-free compressors prevent build-up, which reduces downtime associated with cleaning filters and air system components, and extends the life of the system.
Ingersoll Rand manufactures products to help customers reduce their environmental footprint. Ingersoll Rand filtration components and condensate are oil-free so they are easy to dispose and help manufacturers comply with environmental standards, like ISO 14001 and EU requirements.
To learn more about Ingersoll Rand Class 0 certified air compressors, visit www.ingersollrandproducts.com.