General Tools Takes Another Top Tool Award
Energy Audit IR Thermometer/Scanner with Star Burst Laser Targeting (IRTC50) wins top reader award.
---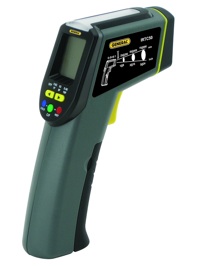 General Tools & Instruments is pleased to announce that its new Energy Audit IR Thermometer/Scanner with Star Burst Laser Targeting (IRTC50) is a
Building Operating Management
2012 Top Products Award winner.
Building Operating Management surveyed its subscribers—largely professionals in building and facility management—asking them to select their top choices from more than 550 products that appeared in the magazine over the past year. The survey guided readers to use innovation and usefulness as the main criteria for their selections.
"The IRTC50 was designed with features based on input from building and facility managers," said General's VP of Strategic Marketing Peter Harper. "It's incredibly gratifying to have experts in this field recognize the product's ingenuity and practicality."
The IRTC50 allows users to acquire a set point temperature and determine whether subsequent readings are within or outside selectable ranges from that set point. A set-point reference temperature is first acquired and stored. Users then select one of three reference ranges (+/-1°, 5° or 10°F; +/-0.5°, 3° or 5.5°C). As subsequent readings are taken, tri-color light and buzzer alarms indicate if those readings are within, above or below the selected range.
The gun-style precision point-and-shoot instrument easily and safely scans and measures surface temperatures without requiring direct contact to inaccessible or dangerous objects. It has a measurement range of -40° to +428°F (-40° to +220°C), features a distance-to-spot ratio of 8:1, and its Star Burst laser targeting system lets users easily determine the area being measured.
What's more, it can perform a progressive scan over a pre-determined area and check for temperature differentials.