DeWalt Goes Brushless
Brushless tools debut at IBS, and that's just for starters.
---
The main event of last Week's International Builders Show in Orlando didn't event take place there. Instead, it was at Disneyworld, where on Feb. 7 DeWalt hosted a private press conference to showcase its newest line-up of leading-edge power tools.
Brushless Tools are Here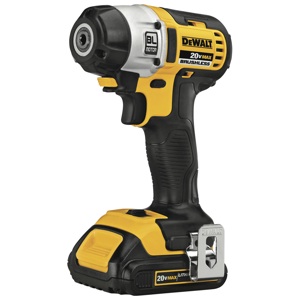 DeWalt likes to remind people that while they may not often be first to the party, they always bring something really good. The trend toward brushless motors in cordless power tools is a case in point.
DeWalt used the event to launch three configurations of its new Model DCF895 Premium 20 Volt MAX Brushless Impact Driver, available with either a 3.0-, or 1.5- amp-hour (Ah) battery or sans battery as a bare tool. Set to be released in April, the tool features the company's first-ever Cordless Brushless (BL) Motor technology, which is engineered to achieve maximum runtime. The new design 57 percent longer runtime versus DEWALT brushed impact drivers, and 1.5 times more runtime versus competitors' impact drivers in a compact, cool-running, durable cordless power tool.
"I spend a great amount of my time on jobsites talking to end users about their demands in a tool, so I can attest that longer runtime is the primary concern among many professional contractors," said Jeremy Torok, senior product manager. "DEWALT power tool users will find that our new BL has an extended runtime, and therefore lasts longer between charges. This leads to greater productivity on the jobsite and less downtime."
Additional Features of the DCF895 include:
Push button, 1/4-inch chuck accepts 1-inch bit tips and allows one-handed accessory changes
Three LED lights surrounding the chuck with a 20-second delay
A fuel gauge-equipped battery pack
Three speeds for enhanced application control; 0-2850 RPM with 1,500 inch/pounds of maximum torque; 0-1,900 RPM with 900 inch/pounds of maximum torque; and 0-950 RPM with 500 inch/pounds of maximum torque.
Light-weight; just 3.6 pounds including 3.0 Ah battery
Distributors can expect to see the new brushless motor design to migrate to other DeWalt tools as the year progresses.
20 Volt MAX line expands
DeWalts Bob Welch told the 20 or so assembled writers and bloggers at the event that the day's two themes were innovation and line expansions. Several all-new members of the 20V MAX lineup fit both themes.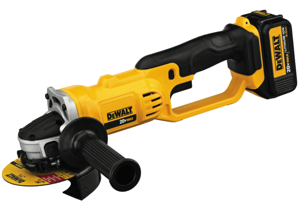 One of the niftiest new products is the 20V MAX 4 ½ inch Cordless Cut-Off Tool, the model DCG412. Designed specifically for cutting as opposed to grinding, the DCG412 delivers 6,500 RPM for fast cutting and grinding applications. Other features include:
Quick-Change wheel release that enables wrench-free wheel changes
Tool-free adjustable guard
Two-position side handle offers increased control and comfort
Low-profile gear case for access to tight spaces.
The tool will be offered in both kit and bare tool versions.
20 Volt MAX Jigsaw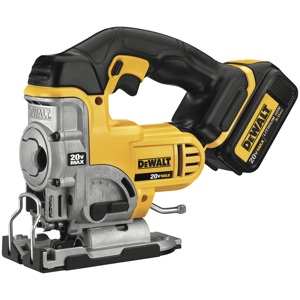 For jigsaw fans, the new DCCS 331 20 Volt MAX Cordless Jigsaw offers improved runtime, ergonomics and comfort with features such as an all-metal lever-action keyless blade change for enhanced productivity on the jobsite.
• Variable speed control ranging from 0-3,000 strokes per minute (SPM);
• Four-position orbital action provides control of cut quality and cut speed
• Adjustable blower keeps the line of cut clear of chips and debris
• Anti-slip comfort grip provides comfort and control.
The DCS331L1 is engineered to accept T-shank jigsaw blades. For easy bevel cutting, it features an all-metal keyless shoe bevel with detents at zero degrees, 15 degrees, 30 degrees and 45 degrees. This tool will also be available via distributors in April.
20 Volt MAX Metal Cutting Circular Saw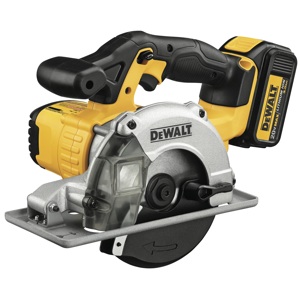 Another innovative cutting solution from DeWalt is its new 20 Volt MAX Lithium Ion Metal Cutting Circular Saw, model DCS373L2. It has a cutting depth of 1 11/16 inches, allowing for quick, clean cuts in ferrous materials such as unistrut, threaded rod, conduit, cold-rolled pipe, metal plate and pan decking, in one pass.
Features include:
A powerful motor that delivers 460 Max Watts Out (MWO) and 3,700 RPM
5 1/2-inch, 30-tooth carbide-tipped metal cutting blade
Bright LED light with a 20-second delay
High-strength steel shoe and magnesium upper guard
Rubber over molded comfort grip handle delivers optimal balance
The saw also features DEWALT's proprietary Multi-Coated SIGHT-LINE window that provides maximum abrasion resistance for a clear view of the cut. The DCS373L2 will be available in July and will be offered in a kit and as a bare tool only.
Batteries and Chargers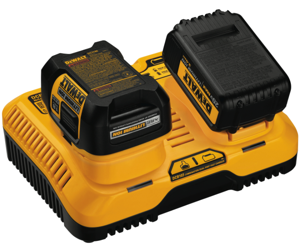 The Juice for these tough new tools comes in the form of DeWalt's new 20V MAX Lithium Ion battery packs and a new Dual Port Fast Charger. The batteries, available in either 1.5- or 3.0 AH versions, feature three-LED charge indicators, and are interchangeable with existing DeWalt 20V MAX line batteries.
DEWALT's fuel gauge system consists of three green LED lights with a push button activator. To check your tool's charge level, press the activation button. The push button and gauge is located on the back of the battery packs in a recessed, well protected area.
The 1.5 Ah and 3.0 Ah Lithium Ion battery packs are expected to retail for $79 and $99 respectively.
All DeWalt tools that currently ship with 20V MAX 3.0 Ah battery packs will be replaced with 20V MAX 3.0 Ah battery packs with fuel gauges.
All DeWalt cordless products with brushless motors will be sold with battery packs with fuel gauges.
The is one exception: DeWalt 20V MAX Compact Cordless products will continue to be sold with 1.5 Ah battery packs without fuel gauge packs.
Charging gets smarter too, with the new Combination Dual Port Fast Charger, model DCB103. This new charger supports existing stem pack batteries on DeWalt's 7.2-, 9.6-, 14.4- and 18-Volt systems, as well as the new 12 Volt MAX and 20 Volt MAX systems. The new dual charger can support both tower-and slide-style battery packs simultaneously. The new charger will be available in April at an MSRP of $99.00.
20 Volt MAX Lithium Ion 1/2-Inch High Torque Impact Wrenches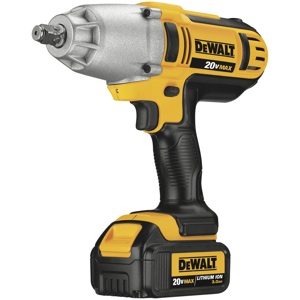 For heavy-duty fastening applications, Dewalt is rolling out two new 20 Volt MAX Lithium Ion 1/2-Inch High Torque Impact Wrenches, the models DCF889L2 impact wrench with detent pin anvil and the DCF889HL2 impact wrench with hog ring anvil. Each delivers deliver 300 ft./lbs. of torque, 1,650 RPM and 2,600 impacts per minute (IPM). Each has a variable speed trigger with an electric brake for added control and an LED light, providing greater visibility when working in dark, tight spaces. For extended durability, the DCF889L2 and DCF889HL2 are equipped with a magnesium gear case and all-metal transmission. The DCF889L2 and the DCF889HL2 will be available in June.
20 Volt MAX Compact Lithium Ion 3/8-Inch Impact Wrench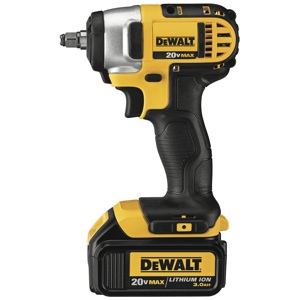 Rounding out the 20 Volt MAX line extension for this event is the 20 Volt MAX Compact 3/8-inch Impact Wrench with Hog Ring Anvil, model DCF883L2. Its compact size (5.7 inches) and lightweight design (3.4 pounds) provides mechanical contractors, plumbers, automotive mechanics, maintenance professionals and remodelers with an ergonomic fastening solution that can fit into tight spaces. It delivers 1,560 in./lbs. of torque and 2,700 impacts per minute (IPM).
Features include:
Three LED lights with a 20-second delay
Battery fuel gauge indicator lights
Durable magnesium gear case, all-metal transmission and a heavy-duty impact mechanism
Hog ring anvil for easy impact socket changes
Textured anti-slip grip handle for greater comfort and control.
The DCF883L2 will be available in April through industrial distributors.
12 Volt Max Pivoting Recip Saw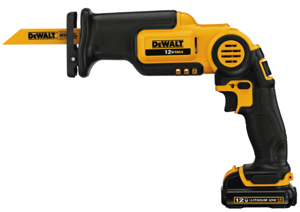 The newest member of DeWalt's 12 volt MAX lineup is sure to be one of its most-embraced tools in seasons to come, the model DCS310S1 Pivot Reciprocating Saw.
Thanks to its three-position handle, this captivating little gem is exceptionally agile and comfortable to use in nearly every conceivable working angle.
The pivoting shoe also provides versatility for cutting a variety of materials. The DCS310S1's keyless lever-action blade clamp allows users to easily change or reverse a blade, providing even greater access to tight spaces or allow for flush cutting.
With a 9/16-inch stroke length, 0-2,700 strokes per minute and a 12 Volt MAX 1.5 Ah battery, the new pivot reciprocating saw provides the power users need in a lightweight, ergonomic package. It is equipped with a bright LED light to illuminate dark work areas. It will be available in April.
New Corded Power Tools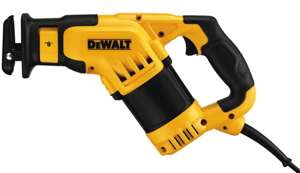 DWE357 Recip Saw
Although DeWalt managers acknowledged that cordless power tools now make up 50 percent of the power tool market, they stressed that the company is striving for continued innovation in corded products as well. One arresting case in point is the new DWE357 Recip Saw, which features a unique, compact configuration that provides outstanding control and balance compared to traditional reciprocating saw designs. Compared side by side against standard recip saw designs, the improved weight distribution, balance and reduced stress on the user's hand is immediately obvious and compelling.
In addition, "The saw's innovative configuration enables contractors to cut in tight spaces where reciprocating saws can't typically go, providing versatility on the jobsite," explained Ivonne Meza, DEWALT product manager.
The DWE357 weighs just 6.8 pounds and is 14.5 inches long, making it 20 percent shorter than other traditional corded models currently on the market. The compact size allows users to make strong, fast cuts in small spaces such as in between rafters and studs, under sinks and in corners.
Despite its small size, the DWE357 features a 10-amp motor that delivers 2,800 strokes per minute (SPMs) and a 1 1/8-inch blade stroke length.
Other innovative features include:
A lever-actuated, four-position blade clamp and fixed/pivoting shoe
Keyless blade change
Ergonomic handle with a soft over-mold for comfort
A variable speed one-finger switch.
DWE575 7 1/4-inch Circular Saw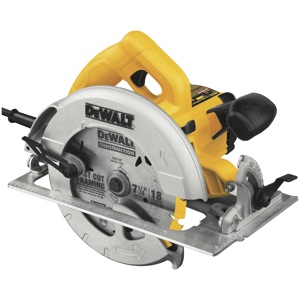 Coming in the second half of this year, the DWE575 7 ¼-inch Circular Saw is one of the lightest in its class, weighing only 8.8 pounds and measuring 7.2 inches in width. Despite its small size, the saw delivers 1,950 Max Watts Out (MWO) and 5,100 RPM.
An integrated dust blower cleans the user's line of sight before cutting. The saw also features a 57-degree bevel capacity, with 22.5- and 45-degree detents, and a 2 9/16-inch depth of cut capacity, which is also best in its class.
Added features include:
ToughCord cord system, which provides three times more resistance to cord pullouts
A ball bearing lower guard designed for long life
Heavy-duty aluminum shoe
The kitted version of the saw (DWE575SB) features an electric break that allows for the saw blade to stop after two to three seconds from the time the trigger is released, providing additional safety. This feature allows users to start repetitive cuts faster.
DeWalt actually ran out of time for new product announcements at this event, so stay tuned, more are most definitely on the way. And no, we didn't get to see Mickey, but we did get to see Lightning McQueen — Ka-Chow! CS