Copper State Bolt & Nut Co. Goes Solar
Chooses Green Choice Solar installations for three Valley locations.
---
Copper State Bolt & Nut Co, a leading supplier for fasteners, industrial and construction supplies, tools and tool repair, cutting tools and abrasives, and fluid sealing products, went solar in a big way with three of its Valley locations getting rooftop systems installed in 2011. Green Choice Solar, the leading commercial solar integrator in Arizona, designed and installed the three systems.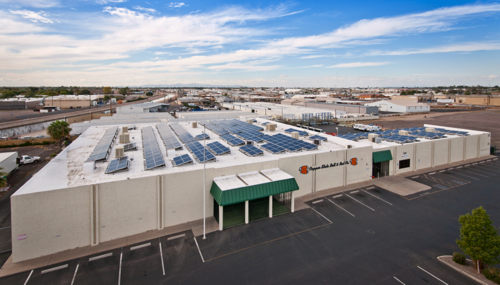 "The solar panel arrays on our manufacturing division building and two of our distribution division buildings are in harmony with our mission and with the environment. Our focus on the future is towards continuous improvement," said Yates Hudson, President of Copper State Bolt & Nut Co. "We are fortunate to not only be a supplier to the renewable energy industry but an investor and partner."
The three systems total 244.720 kWp and will provide over 50 percent of each location's energy needs. The systems were installed using a ballasted racking system, this means little chance of future leaks as there are no roof penetrations involved. Green Choice Solar secured incentives from Arizona Public Service (APS) and Salt River Project (SRP) for Copper State.
"The incentives were an important factor for us," said Carl Spackman, Director of Finance for Copper State Bolt & Nut Co. "Green Choice's experience with securing both tax and production based incentives made our decision to choose them easy."
The systems will not only help Copper State with reduced energy costs, but also with its efforts to be environmentally conscious. Over the next 25 years, the systems will offset carbon emissions by 6,100 metric tons, which is equivalent to taking over 1,400 cars off the road.
"It was very exciting for us to work with Copper State," said Tony Doran, CRO of Green Choice Solar. "We like helping our customers realize the full economical and environmental benefit of solar."
Copper State Bolt & Nut Company supplies fasteners, industrial and construction supplies, tools and tool repair, cutting tools and abrasives, and fluid sealing products. With more than 400 people on its team, Copper State supports 22 locations in Arizona, Texas, Colorado, New Mexico and Nevada.
Copper State provides products and services throughout the Southwest U.S. in support of mining, construction, steel fabrication, MRO, OEM, utilities/municipalities, and fluid sealing industries. Copper State prides itself on developing talented employees, carrying inventory to support customer needs, providing quality products and services, and in being an active and environmentally conscious participant in each community in which we are located. Learn more at www.copperstate.com.
Founded in 2009, Green Choice Solar is the current market leader for commercial and governmental solar integration in the Southwest. The Scottsdale, Ariz., based company offers complete solar solutions for small to large businesses. Green Choice Solar has established its presence in the industry by empowering its clients to save money; its commitment to quality engineering and products; and its full-service integration approach.Visit them at www.greenchoicesolar.com.