AIH Opens New Alaska Superstore
New 53,000-square-foot superstore incorporates the latest in sustainable energy designs.
---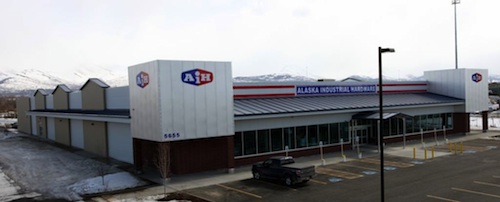 After being on the drawing board since 2006, Alaska Industrial Hardware has opened its newest and largest store, in a prime high traffic area of Anchorage. The new location on 56th Street is just nine blocks from the store it replaces, which had been in the same location since 1976.
The new location was the former site of a salvage yard, required extensive cleanup before construction could begin. Even with a significant delay caused by the required site prep work, the new store opened within two weeks of its originally projected schedule, and was built with 100 percent Alaskan labor, 95 percent "Buy America" goods, and incorporates the latest in sustainable energy designs.
On Friday April 13, 2012, a crew of nearly 100 AIH employees began moving $1.2 million dollars in inventory. Working in two shifts around the clock, they completed the move and set-up by 4:00 pm Sunday afternoon.
At 7:30 a.m., Monday April 16, AIH opened its brand new 53,000-square-foot flagship store, completely stocked and merchandised.
"Over the years, I have visited dozens of hardware stores and I can safely say, nowhere in the country exists a store as nice as ours," says Mike Kangas, president/general manager, Alaska Industrial Hardware Inc. "I couldn't be more pleased with the store and all of the support every employee gave to mark this AIH milestone. Without their help, this would be no more than a dream."
Learn more at www.aihalaska.com.