Case Study: Contractor Helps Recreate 100 Years of History at the Jersey Shore
John Tym Builders uses Manasquan Premium Fasteners for historic church restoration project.
---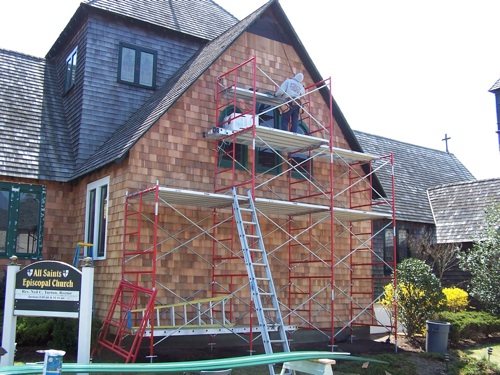 Standing at the heart of one of New Jersey's largest historic districts is the All Saints Episcopal Church, which first opened its doors in 1889 to accommodate Bay Head, N.J. residents. Over the past 120 years, the district, which now consists of more than 500 separate buildings, has gained both statewide and national prominence for its architecturally-significant collection of Queen Anne-style structures exemplifying the rustic charm of the state's southern regions.
With a clear understanding of the church's historic value to the local community as well as the state, John Tym Builders, LLC of Point Pleasant, N.J. has worked painstakingly with the municipality, civic organizations and congregation leaders for the past six years to not only rehabilitate the entire church from foundation to steeple, but also ensure that all the renovations reflect the building's seaside origins. This includes recreating the church's 1890s look and feel, which extends from the exterior's cedar shakes to the altar cross fashioned from aged pilings retrieved from the local boatworks.
"We specialize in renovations that strive to combine the ambiance of older homes with the contemporary feel of 21st century designs," says John Tym, the company's owner who has serviced the Jersey Shore and surrounding area's general contracting needs for the past 25 years. "Our goal is to build structures that will last the next 100 years. As a result, we are devoted to 'tried and true principles' that provide everything from full-service construction to in-depth maintenance programs and services."
According to Tym, the firm's long-standing success at exceeding customer expectations can also be attributed to using only the highest-quality materials. This includes a dedication to stainless steel fasteners due to their ongoing ability to withstand the corrosive effects of ACQ (alkaline copper quaternary) treated lumber, which has supplanted other types of treated wood used for construction and related home building projects.
"The introduction of some of the latest materials and supplies has created many new opportunities as well as complications for builders," offer Tym. "Prior to 2004, lumber was treated predominantly with CCA (chromated copper arsenate). However, while ACQ is a much safer option, it does pose its own set of challenges since it tends to erode the integrity of galvanized steel fasteners, making them much more susceptible to short-term wear and other physical problems. Subsequently, we now only use stainless steel fasteners on most projects because of their superior corrosion-resistance properties. This is especially true when ACQ- treated wood is used in highly-corrosive seashore environments."
Over the past eight years, Tym's growing dependence on stainless steel fasteners brought him to Manasquan Premium Fasteners. After thoroughly researching his options and finding few vendors specializing in this relatively new product area, Tym began working with Manasquan nearly a decade ago due to their extensive line of stainless steel screws, nails, bolts, joist hangers and framing connectors as well as their educated services and timely, dedicated delivery practices.
"Prior to Manasquan, I received my fasteners via mail or special order from local lumber yards. Unfortunately, that took a lot of coordination and planning, which isn't always possible when you're working on-site and new developments arise daily. In contrast, Manasquan is one of the few suppliers that stocks nearly everything I need from all the major manufacturers and without fail makes sure I'm ready to go when the job starts. In the very rare instance when the product I need is not in-house, they've always gotten it to me one way or another within two days of the request," adds Tym.
Another extended benefit provided by Manasquan is the in-depth level of informational support supplied by the company's co-owner Bob Dey. On one occasion, Dey even showed up at a local job site after Tym stopped by the Manasquan offices for supplies.
"I told him about our latest project and later that day he was standing next to me on-site holding a selection of post bases that he thought would be better suited for the particular installation," further explains Tym. "Another time, Bob worked directly with Simpson to specify and supply the correct hangers needed to support the second floor cantilever of a 120-year-old ocean-front property. As a result, we lost little time due to the unexpected repair and were able to finish the job on schedule. They have earned my business and admiration by providing a rock solid service that goes well beyond the bounds of the tradition supplier."
For more information on John Tym Builders please visit http://johntymbuilders.com.
Founded in 1987, Manasquan Premium Fasteners is a leading provider of stainless steel and concealed decking fasteners to the residential, commercial and marine construction industries. For more information please visit www.manasquanfasteners.com, call 1-800-542-1979 or contact Bob Dey at bob@manasquanfasteners.com.