Swanson Savage Multi-Tool Takes Top Tool Award at NHS
Savage multi-purpose tool wins at National Hardware Show.
---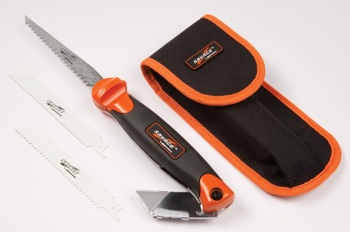 A unique combination tool from Swanson Tool Co. has received what many consider the top tribute for a new product – the Editor's Choice Award from Popular Mechanics. Swanson's Savage Folding Jab Saw / Utility Knife combo tool won the prestigious distinction at this year's National Hardware Show (NHS) on May 1. In a ceremony hosted by the legendary media giant at the show, Swanson's President, James Allemand and Vice President of Sales and Marketing Dennis Hale, accepted an engraved glass trophy honoring the tool.
Estimates say that more than 100,000 products, perhaps 10% of them new products, were on display at the massive NHS, which attracts nearly 3,000 exhibitors. These manufacturers are hoping to gain attention for their wares from the tens of thousands of store owners and chain buyers looking for the next great product to sell into the $343 billion US home improve­ment and DIY markets.
From those thousands of new products, this year the editors at Popular Mechanics picked just 16 to receive the Editor's Choice Award, including the Savage Jab Saw/Utility Knife.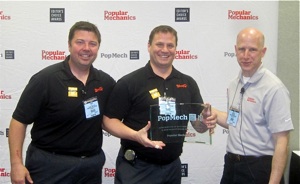 Part of Swanson's rugged new Savage line of levels, layout, marking and cutting tools, you have to hold this combo tool in your hand to fully appreciate it. It is both a saw and an integrated utility knife, cleverly designed in a rugged metal case with a comfortable, cushioned handle.
An industrial, screw-down bolt holds blades tight, but they can be changed easily and fast. It accepts any reciprocating saw blade, so you can use it for dozens of projects, from trimming trees to cutting metal conduit or plastic pipe. And it's the perfect drywall saw. Saw blades can be locked in a straight or angled position for maximum flexibility. The onboard utility knife is top quality. This tool's quality is equal to anything you've ever seen. It comes with three reciprocating saw blades, a utility blade, and a sturdy carrying case with a built-in belt clip that holds the tool and extra blades – all for around $25 retail.
Three Wins in Five Years – This year's is the second consecutive Editor's Choice Award by Swanson, having won last year with the tough, lightweight Speed Bevel. And it is the company's third win in five years, having won for the amazingly versatile Wood Magnet in 2008.
At the NHS, Swanson unveiled the complete new Savage line. Tools so well made that they come with a limited lifetime guarantee of accuracy. Tools that match, or exceed, features and performance of the most famous brands used by top professionals – most at around 20% less cost. Tools with world class accuracy; that are intuitive and easy to use. Tools designed and built by Swanson, whose reputation for innovation and quality is renowned throughout the industry.
Engineered and designed in the U.S.A. to meet or exceed the most stringent industry standards, the Savage line includes dozens of levels, squares, edges and accessories. These are "ultimate" tools that can be counted on to perform reliably every time, year after year, in the most demanding environments. In fact, they're guaranteed to do just that, for life.

About Swanson Tool Co.
With Swanson, you can Start Square Finish Level. Building customer trust for more than 85 years, Swanson is a leading, global manufacturer of layout, leveling and marking tools. The Frankfort, Illinois-based company is the inventor of the Swanson Speed Square and continues to proudly manufacture and distribute it and other fine carpentry and leveling tools.
The Speed Square is one of the best-selling tools in history. It is the trusted coworker of builders, carpenters and DIYers worldwide. The Swanson product line has been upgraded and expanded to meet the changing needs of loyal customers, con­tractors and do-it-yourself enthusiasts worldwide.
In late 2011, Swanson introduced the Savage line of levels, layout, marking and cutting tools. These first-quality tools are built for a lifetime of use, with unrivaled performance and accuracy that's guaranteed.
Swanson's product line now includes more than 100 innovative levels and layout tools that save time and get jobs done easier, with accuracy you can trust every time, year after year. For more information call 815-469-9453 or visit www.swansontoolco.com.