Stinger Cap Systems Move Into Lowe's Stores
Now selling in 200-plus stores.
---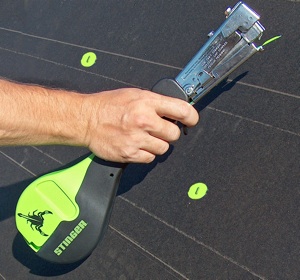 National Nail Corp. is proud to announce Lowe's as a retail partner for STINGER Cap Systems. STINGER products are now featured in over 200 Lowe's stores across the country and on Lowes.com.
Based in Mooresville, N.C., Lowe's is the second-largest home improvement retailer in the world with more than 1,745 stores in the United States, Canada and Mexico—serving approximately 15 million customers a week. Lowe's stores stock 40,000 products in 15 product categories offering everything customers need to build, maintain, beautify and enjoy their homes.
"Lowe's commitment to innovation and their reputation as a respected home center makes them an ideal partner for STINGER Cap Systems and National Nail," said Rocky Stroud, STINGER Product Manager at National Nail Corp. "Cap fasteners are considered a best practice for installing roofing underlayment and housewrap, and STINGER is a unique cap fastening solution that's economical and easy to use - a great product for Lowe's professional contractors and homeowners."
STINGER Cap Systems, manufactured and distributed by National Nail Corp., set the standard for securing roofing underlayment and housewrap. Each STINGER pneumatic and non-pneumatic tool automatically delivers the holding power of a cap and staple or nail for best practice installation as recommended by manufacturers like DuPont, Typar, Grace and Titanium.
Lowe's will offer the STINGER CH38 Cap Hammer, the first hammertacker to deliver a cap and staple, and 2016 count STINGER 3/8" StaplePacs. For more information, visit www.stingerworld.com or call 1-800-968-6245 ext. 2134.