Bosch Blitzes the Market
New tools, accessories and a revolutionary storage system.
---
June has become new product month for the power tool industry. This year, Bosch hosted its event from June 13 through the 15th, with the main event taking place on the 14th.
Terry Horan, president and CEO of Bosch Power Tools North America, welcomed the assembled journalists and bloggers with a brief overview of how Bosch sees the economic recovery (it's underway) and the company's growth (now in its third year of growth since the recession). He also spoke to company's new product philosophy for the post-recession era, saying: "We are not innovating anymore — we are inventing." Tying this into the Bosch slogan, "Invented for Life," Horan revealed that Bosch applied for 4,100 patent applications last year alone— an average of 16 a day. Overall, Horan said, Bosch exceeded $70 billion in sales last year and its Power Tools division is the largest tool company on Earth.
Bosch in a box
Ask a professional what comes to mind when you mention the word "Bosch" and you can bet the farm that he will not answer you with "boxes." But that is about to change.
Bosch subscribes to the concept that "Productivity is being able to do things that you were never able to do before." This obviously applies to new applications, materials and the tools to manipulate them, but it also applies to how tools are managed, stored and moved from place to place. In truth, the biggest enemy of worker productivity is simply not being able to find your tools when you need them, and Bosch has taken this idea not just up a level to a system, but up several levels to a global system.
According to Bosch research, one of the largest and fastest growing categories of workers, across all categories, is what Bosch calls the mobile professional — someone who works out of a truck or a van. Bosch studies have revealed that only 31 percent of a mobile professional's workday is actually engaged in directly productive work. Three percent is spent doing secondary work such as site cleaning, but that leaves a whopping 66 percent of the work day spent basically just getting to and from work and finding the tools he needs to do the job once he gets there.
First, the box: The Bosch Click & Go system offers various sizes of configurable boxes that interlock easily into a stack.
Next the system: The boxes can then be load onto a rolling rack or a trolley that can take them to custom designed shelving units installed in truck boxes and vans. Those units lock the boxes in place and won't let them roll or fly around, even if the truck gets into an accident. Bosch wisely elected not to do all this by itself, but rather has chosen to partner with Sortimo, Europe's largest manufacturer of mobile storage systems, to design box and shelving systems that fit perfectly together in trucks or vans. (Also on the way is a two-wheel cart for hauling boxes around the jobsite.)
Finally, the global system: Bosch and Sortimo then partnered with Knapheide, one of North America's oldest and largest truck outfitters, to make this system available in 240 Knapheide locations and distributorships nationwide.
The new Bosch Sortimo Systems division plans to roll out, as Bosch and Sortimo reps put it, "hundreds of new products in the next 12 months," all designed for the Bosch Sortimo/Knapheide mobile storage system. Since introducing its box system in 2008, Bosch says it has sold 2.5 million units. Bosch Sortimo Systems division aims to dwarf that number.
The Bosch Click & Go system has four compatible box height sizes for storing a variety of tools and supplies; exact-fit molded tool inserts; and top, front and side handles for ease of transport.
And those boxes are tough. The most frightening moment of the entire press day was when Mahendra Srivastava, president of Sortimo North America tossed a box on the ground and laughingly challenged me to stand on it. My classic German rotundity notwithstanding, I did as I was told. Nothing happened — the box took my full weight without a peep of complaint. Now that's heavy-duty.
Tools
So what is going to go into all these new boxes? A lot of new tools.

New straight grinders include the DG250C compact die grinder with a 5.8-amp, 30,000 rpm motor that can run up to 1.5-inch accessories, and the DG355LCE extended-spindle die grinder. It has the same 5.8-amp motor but a 10,000-30,000 variable speed and a maximum accessory diameter of 2 inches. Both models feature Constant Response Circuitry for soft start and constant speed under load.
Their bigger brother is the DG490CE grinder, which has a 6.5-amp motor, an extended spindle and a variable range of 2,500 to 8,000 rpm.
All three have a hardened ¼ -inch collet to extend tool life and enhance precision. Service-minder carbon brushes feature an auto cutoff to let users know when they need to be changed. All three models also boast an improved grommet design that enhances cord flexibility.
For heavy polishing applications, the new GP712 VS 7-inch variable speed polisher features a beefy 12-amp motor and adjustable rpm from 750 to 3,000. Yet at just 6 pounds, it is lighter than its nearest competitors. A separate on/off trigger switch allows for more versatility than the traditional lock-on button next to the trigger. Its electronics package includes soft start and restart protection for increased tool life. It is equipped with a 7-inch hook-and-loop backing pad.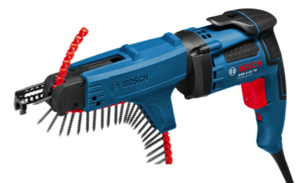 Screw Guns
Bosch is also making life easier for screw gun users with three new tools. The SG450 features an ergonomic handle grip design for greater comfort and control and a Posi-Lock nosepiece that retains its depth setting when removed. The tool also has a plastic gear housing that reduces tool weight and improves balance. It has a 7-amp motor that delivers 106 inch pounds of torque at 4500 rpm. The SG450 is ideal for driving screws through drywall, as it offers the perfect balance between RPM and torque.
For applications that demand higher torque, the SG250M high-torque screw gun delivers 177 inch pounds of torque at 2,500 rpm. The SG250 is strong enough to drive screws through hardwoods and is designed for tasks such as deck building, framing and other remodeling applications.
The SG450AF includes the SG450 screw gun enhanced by an auto-feed attachment. The attachment's collated screw strip guide holds screw strips in place for one-handed operation. It features tool-free adjustment of screw length and depth and an open design for easy dust removal. The auto-feed attachment accommodates 1-inch to 2 1/8-inch screws and is easily detachable so users can work in tight spaces. The autofeed attachment works with both the SG250 and SG450.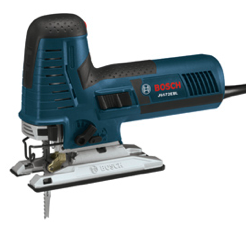 Jigsaws
Jigsaws likewise get an upgrade with the new JS572E (top-handle) and JS572EB (barrel handle) 7.2-amp saws. They feature Bosch Precision Control II for a stated lowest blade deflection of any jig saw, and compact, lightweight designs at just 5.1 pounds. Bright, switchable LEDs on the JS572E and JS572EB, together with a switchable dust blower, provide superior visibility.
A tool-less blade change system allows for faster insertion of T-shank blades, and a blade ejection lever eliminates the need to touch hot blades. Each has variable speed from 500 to 2,800 spm.
Tile and miter saws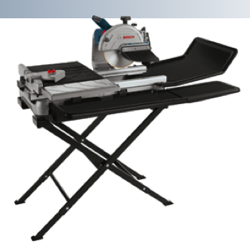 Some new tools are too big for boxes, including the recently released Bosch TC10-07 wet tile saw, which features an expanded water retention system and an aluminum base and frame. The TC10 has a 24-inch rip and 18-inch diagonal cut capacity, and can power through materials including porcelain, marble, granite, slate and travertine tile thanks to a 1.5-hp, 4,200-rpm motor.
Using a quick-adjust edge guide or bevel adjustment, the saw can be easily positioned to pre-set 22.5-degree and 45-degree stops for repetitive and straight or angle cuts. An adjustable head-plunge allows users to tackle outlet and vent register cutouts comfortably, and a tool-free blade guard and arbor lock allow quick and easy blade access and one-wrench blade changes.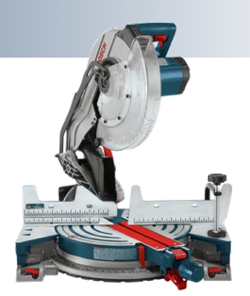 A new entry in the miter saw wars is the model CM12 single bevel miter saw, which is designed for one-handed portability while retaining hefty cutting capabilities: 2x8 cross cuts, 2x6 45-degree miters and 6 ¾-inches against the fence. It has a 15-amp motor, is 22.8 inches wide and weighs just 40 pounds.
Its features include a quick-reach bevel lock lever located on one side of the saw for fast and convenient bevel adjustments and a Squarelock Quick-Release Fence that aligns 90-degrees to a table or workstation and requires no adjustments. A one-touch lock/unlock lever allows users to easily slide the fence in place for added support. Available accessories include:
LS010 Arbor Laser
MS1233 Crown Stops
MS1234 Length Stop Kit
T4B Gravity-Rise Stand
GTA3800 Folding Leg Stand with Wheels
Collecting dust
For collecting dust, August sees the release of a new 6.6-gallon wet/dry vacuum, the model 3931B-SPB. It has two modes of operation - regular vacuum and Bosch's patented PulseClean mode, an electromagnetic filter cleaning system that shakes its dual filters to help maintain maximum suction. The soft-start motor has an after-run feature of several seconds to clear the hose. It produces 100 inches of water lift, 130 cfm and 248 millibar suction.
A standard filtration system captures three microns at 99.93 percent. The six-gallon tank offers four collection options including plastic bags, paper bags, slurry bags or a canister.
This new vacuum is the perfect mate for the new Bosch HDC dust collection system for chiseling, drilling and demolition applications. The patent-pending HDC dust collection system substantially reduces air-born dust on the job-site, and features three attachments: the HDC-C1 (chiseling only), the HDC-D1 (for both drilling and chiseling) and the HDC-C2 (for demolition use with breaker hammers).
All three attachments feature a tool-free clamping band to facilitate fast, easy accessory installation and adjustment, while the special screwdriver extension design allows for adjustment with a simple twist to accommodate a variety of drill or chisel bit lengths. The HDC-C1 and HDC-D1 fit all Bosch SDS Max and Spline hammers. Each has a dust port that connects the shroud to a vacuum.
Some additional benefits of the Bosch HDC include:
Adapter rings to ensure HDC attachments fit a wide variety of hammer types and sizes
Tool-free installation and adjustment for quick, easy use
Roto-Zip renewed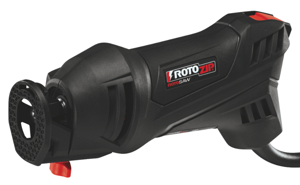 Bosch's Randall Coe has moved over to helm the Roto-Zip division as it expands its message as a tool with under-utilized versatility. To illustrate the market opportunity for the Roto-Zip system, Coe said that 64 percent of former specialists have moved into a wider array of jobs during the recession and that 71 percent of professional generalists are looking for a single tool system. Bosch believes it has the tool these pros are looking for in the newly revamped Roto-Zip system. The line features three models, the SS355-10 RotoSaw, the SS560vsc-50 RotoSaw + Connect Kit and the RFS1000-20 ZipSaw Multi Tool.
These tools are made more versatile by using the new ZipDisc flap (ZD-M1) and coarse-material (ZD-C1) removal discs.
Nailers
Also this month, Bosch will launch the FNS138-23 23-gauge pin nailer. Its 5.2 foot pounds of drive power are claimed to be 10 percent greater than competing models and it will hold 130 23-gauge 1 3/8 inch nails.
Cordless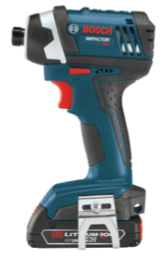 The biggest cordless news from Bosch has to wait a while before we can announce it, but there's still plenty to talk about. First up, the new IDS181 18V Compact Tough impact driver has a compact 5.4-inch head length for getting into tight spots and a lean mean weight of just 2.9 pounds. It produces 130 inch-pounds of torque, runs at 2,900 rpm and delivers 3,100 bpm. Its optimized rpm/torque control handles light to medium-duty impact applications and a three-LED ring provides excellent illumination.
Also coming this month is the 18V model PLH181K planer. It boasts a full 3 ¼-inch cutting width and an adjustable depth to 1/16 of an inch. Its electronically counterbalanced single-blade design automatically positions the blade at the ideal cutting angle, which reduces drag and increases cutting speed. Its chip ejection can be switched to left or right operation. It weighs 5.7 pounds and runs at 14,000 rpm.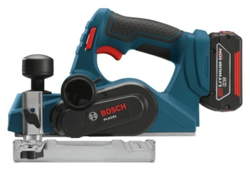 Additional features and benefits of the PLH181K include:
A locking on/off button to avoid accidentally turning on the tool
A soft grip, ergonomic handle
3.0Ah High Capacity (HC) FatPack Battery for unmatched runtime and cold weather performance down to -4°F
Flexible Power System lets users choose the compatible SlimPack battery for minimum weight
Electronic Cell Protection (ECP) to prevent battery overload or any deep discharge
An ambidextrous edge guide mounted to either side of the tool for enhanced protection and convenience
A ratcheting depth knob for fast and easy depth adjustment in increments from 0-1/16-inch
Three integrated V-grooves for easy chamfering at all depths
Also joining the 18V family is a new model ADS181 ½-inch right angle drill with a variable speed from 0 to 1,150 rpm. Its ½-inch ratcheting chuck allows for a broad variety of drilling and driving applications and it features 60 percent more torque. It has a head length of 4 inches and weighs 3.8 pounds.
Rotary Hammers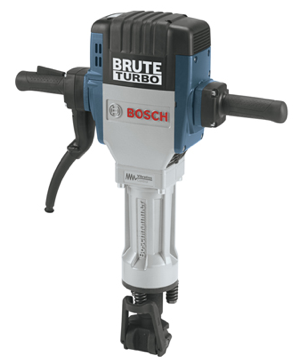 The new Bosch BH277OVC Brute Turbo breaker hammer features superior vibration control and a new motor design that delivers 30 percent more impact energy than other models. Weighing only 63 pounds with impact energy of 47 foot-pounds, the Brute Turbo boasts the best power-to-weight ratio of any electric breaker hammer in its class.
A non-slip rubber cover helps prevent the tool from tipping over while not in use. Ergonomic handles feature soft grip for improved handling and comfort during extended use. Vibration control measures include a longer air cushion in the hammer mechanism that substantially reduces vibration at its source and shock-mounted handles. The BH2770VCD Brute Turbo Kit includes four chisels and a deluxe cart that converts to a hand truck.
Accessories
Bits

The new Bosch BlueGranite Turbo masonry bits feature a Power Grip shank — flat tabs that extend from the shank and catch between the jaws of power tool chucks. These bits are easy to chuck in the tool and won't slip. The tip of the BlueGranite Turbo bit is Bosch carbide, made in Bosch facilities. It is diamond ground for precise starts in tile, hard stone and other natural building materials — with no skating or scratching. Milled, deep-cut u-flutes offer fast dust removal.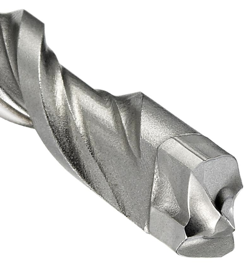 Bulldog Xtreme rotary hammer bits deliver precision and long life in reinforced concrete or harsh aggregate. They are built around a solid-head carbide design that lasts longer than competitive offerings in rebar while providing faster drilling speed combined with precision and less carbide wear.
Bosch utilizes a proprietary diffusion-bonding technology, a high-heat, high-pressure solid state welding process to ensure a superior steel/carbide combination. This gives Bulldog Xtreme bits superior strength and a solid-carbide head that won't break off when the work gets tough in any concrete or aggregate application. Bulldog Xtreme bit sizes range from 3/16" to 1 1/8" diameter.
Bosch Bulldog SDS-plus rotary hammer bits offer vacuum brazing and an induction-heat hardening process to ensure fast drilling in lightweight or normal weight concrete applications. Bosch employs a proprietary, patent-pending carbide tip and a patented flute design that reduces friction points between bit and concrete helps the bit run cooler and reduces bit stress. The four-flute pattern ensures fast dust removal and a centric tip provides optimal hole geometry. Bit sizes range from 5/32 to 1-inch diameter and from 4 to 39 inches in length.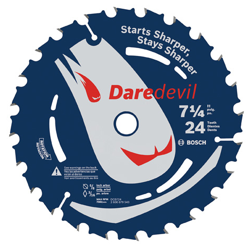 Blades
The latest generation Bosch Daredevil framing blades feature thin-kerf, extra-hard steel plates, Bosch C3 Micrograin Carbide that stays sharper longer and resists impact damage and triple-sharp carbide teeth that are sharpened on the face, top and sides. A Speed Coat finish provides added speed and avoids binding in treated or wet lumber. The saw blade line will expand to include 10- and 12-inch blades in the fourth quarter 2012.
Bosch Daredevil reciprocating blades feature teeth that provide a clean cut that's up to 20 percent faster than competitive blades thanks to patented 2 x 2 tooth geometry. Micro-blasting helps teeth last up to twice as long. Daredevil recip saw blades have also been re-engineered to offer more height and thickness for straighter cuts and reduced vibration. They are made with metal alloy and protective coating to provide more heat resistance, which also contributes to longer life.
Daredevil Speed for Metal (Speed for Heavy Metal, Speed for Thin Metal) blades boast advanced materials like a titanium nitride coating on teeth for superior product life. Other Daredevil recip saw blade options include Speed for Wood, Demolition for Wood with Nails and Demolition for Metal. Blade sizes range from 6 to 12 inches in length.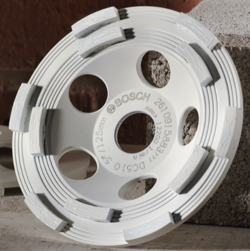 Wheels
In wheels, Bosch adds 10 new 4-, 4-½-, 5- and 7-inch diamond cup wheels that offer versatility and improved dust removal. These new cups also feature increased height from 1 to 1-½ inches to aid dust collection by fitting flush to the bottom of the hood. The new Bosch diamond cup wheels are offered in two styles: A double row design for more aggressive, faster material removal of high spots and longer life versus single-row options, and a turbo cup wheel that creates a smooth concrete finish while delivering high material removal.
Additionally, these new Bosch diamond cup wheels don't require a wrench or other tools for attachment to the grinder.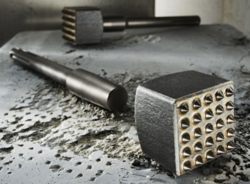 A new two-piece Bosch Carbide Bushing Tool is engineered specifically for concrete roughing or chipping jobs that require a quick, easy-to-use power tool accessory. It starts with an optimized shank to maintain constant pressure on the tool head. The two-piece system allows the user to apply the shank or head unit with other systems, and the head alone can be replaced when worn to save time and money. Bosch shank options include an 8-inch SDS-max, a 12-inch round hex and a 12-inch ¾"-inch hex.
The Bushing Tool head measures 2" x 2" and features 25 carbide-tipped pyramid points. Used with demolition hammers and combination hammers, it can prepare a rough concrete surface or remove excess concrete where chipping, cleaning or gouging are required. The bushing tool does a better job than a grinder with a cup wheel in these applications because the bushing tool doesn't require dust control.
Oscillating blades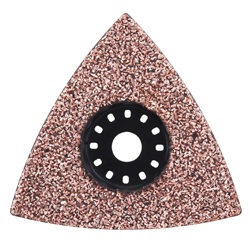 Bosch introduces a full line of titanium-coated segmented and full-circle cutting blades along with a new tear drop-shaped carbide blade for grout and thin-set removal. Titanium coating on the oscillating tool cutting blades increases life by 30 percent versus conventional bi-metal blades thanks to better heat distribution. Heavy-duty cutting applications range from light-gauge metal including metal studs, to fiberglass.
Half-moon segmented blades and full-size circular blades are available in 2-1/2" and 3-1/4" diameters.
The Bosch 3Max tungsten carbide blade combines a rasp and a carbide blade to produce an accessory that can cut grout and remove thin-set, an advantage that allows the user to work with one accessory rather than changing from a rasp to a carbide blade in conventional offerings.
The teardrop shape allows the blade to remove tile using a rounded edge, flattening the base for thin-set and mortar removal using the flat surface, and use of the rasp finger to work in 90-degree corners and other tight spaces.
Both blades accept the Bosch Oscillating Interface System (OIS) adapter, which means they can be used not only on Bosch oscillating tools but those made by most manufacturers.
Measuring Tools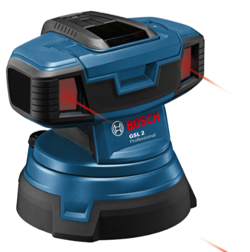 A clear standout tool the day was the new Bosch GSL 2 Surface Laser, the world's first surface laser that continuously checks floor levels and flatness. Eliminating the need for time-consuming floor spot checks and requiring just one person to operate, the GSL 2 is a quick, convenient and accurate tool for daily jobsite use.
The GSL 2 can scan the entire floor within minutes and will never miss an uneven spot. A target plate and RC 2 remote control with a working range of 60 feet allow users to remain close to the uneven spots for marking and examination, rather than having to stay near the tool to operate it. With accuracy of 1/8 inch at 30 feet, the GSL 2 offers line visibility of 30 feet, increasing to 60 feet when used with the target plate. The tool self-levels in five seconds within a leveling range of ± 4 degrees.
The GSL 2 can be used with the four included AA 1.5V alkaline batteries or with the Bosch 12V Li-Ion battery pack (not included) for up to 15 hours of operating time.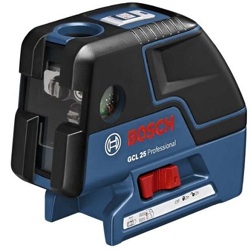 Bosch is expanding the multi-use laser market with the launch of its new GCL 25 five-point self-leveling alignment laser with cross-line. The tool's five laser points are visible up to 100 feet and offer accuracy of ¼ inch for points and 1/8 inch for cross-line, with laser line visibility of up to 33 feet. A keypad can be used for simple line and point selection including self-leveling, plumb up and down, horizontal leveling, alignment, right angle setting and laser cross-line. The cross lines add value to a typical point laser as it is able to provide alignment applications such as measuring off the level line.
In self-leveling mode, the GCL 25 offers a leveling range of 4 degrees and alerts users with flashing lines when there is an out-of-level measure of greater than 4 degrees.
CST/berger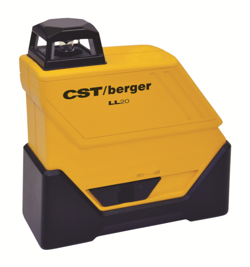 Rounding out the top end of the Bosch/CST/berger pro offering are two new models, the LL20 Self-Leveling 360° Exterior Line Laser and the RL25 Series of self-leveling rotary lasers.
The LL20 Self-Leveling 360° Exterior Line Laser is a fast and easy-to-use line laser in a compact size. With an extended range, the laser provides powerful performance and accurate results at a more affordable price than typical rotary lasers used for these applications.
The tool is designed especially for contractors who work outdoors in the residential and light commercial construction leveling segments. It's ideal for applications including bringing footers to level, leveling concrete floor forms, determining cut and fill values for excavation, leveling decks, determining irrigation flow for landscaping and checking the levels of existing structures and contract work. The LL20 offers 3/16-inch accuracy and when operated with the innovative LD3 Laser Detector, and provides a 530-foot range (diameter) – perfect for small to mid-size exterior applications. Both components are water and dust protected at IP55 to withstand the toughest jobsite environments, and feature a rugged housing design and thick over-mold in key impact areas for protection from drops.
Rotating lasers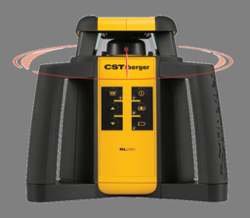 The new RL25H Exterior Self-Leveling Rotary Laser and RL25HV Interior/Exterior Self-Leveling Rotary Laser feature a glass-enclosed top housing that protects the laser from extreme weather and a thick over-mold that protects key impact areas for drops of up to three feet. With an IP56 rating, both rotary lasers are water and dust resistant to withstand the toughest job site conditions. Single axis slope control allows users to quickly change the slope of the laser for complex leveling applications.
Both RL Series lasers feature an anti-drift system (ADS) that alerts users when the laser has drifted from the benchmark. When tackling excavating and concrete leveling projects, both rotary lasers outperform competition within their class with a working range of up to 2,000 feet and leveling accuracy up to 3/32 inch. The easy-to-use RL25H rotary laser also boasts 85 hours of runtime with D-cell alkaline batteries. The RL25HV rotary laser includes a vertical plumb beam that complements the horizontal beam to make laying out 90-degree corners and plumb applications easier than ever. Learn more at www.cstberger.com.
Seen enough?
As always, Bosch allowed the press tantalizing glimpses of some major innovations coming down the pike, then swore us to secrecy until the new products are ready for release. Suffice it to say, there is much more in the pipeline of the world's largest power tool company. Learn more at www.boschtools.com.