Sonnhalter Tool Drive Raises More Than $33,000 of Donations for Habitat for Humanity
Third annual event benefits Greater Cleveland Habitat for Humanity.
---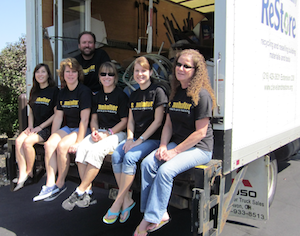 Sonnhalter, a communications firm marketing to the professional tradesman in the construction, industrial and MRO markets, partnered with Greater Cleveland Habitat for Humanity for a third year during the Third Annual Sonnhalter Tool Drive, which ran the entire month of August and collected more than $33,000 worth of tools and building materials.
Since Sonnhalter began its efforts, it has collected more than $75,000 in donations.
Organizations, businesses and residents were encouraged to donate new and gently used tools, as well as cabinets, sinks, building materials and appliances, to Sonnhalter to help benefit Habitat for Humanity's cause of eliminating substandard housing and homelessness.
"Through the Sonnhalter Tool Drive, we received donations of thousands of dollars worth of brand new and lightly used materials," said John Habat, executive director of the Greater Cleveland Habitat for Humanity. "This contribution will go a long way in helping Clevelanders improve their homes and eliminate substandard housing and we're already looking forward to next year's tool drive."
Community participants in the Third Annual Sonnhalter Tool Drive included the Berea Recreation Center, Cuyahoga County Public Library-Berea Branch, Edward Jones Investments, Perk-CUP! Café, St. Mary's Church of Berea, St. Mary's of the Falls, Sylvester's Auto and Light Truck Service, Tony K's Bar & Grille and many community members.
Industry participants in the Third Annual Sonnhalter Tool Drive included A&F Machine Products Co., Calculated Industries, Council Tool, Energizer, Knipex, Molex, Osborn, Samsel Supply, Sutton Industrial Hardware, Welch Packaging and Wolff Bros. Supply.
"We are once again overwhelmed by the generosity of our clients, partners and community," said Matt Sonnhalter, vision architect at Sonnhalter. "Our Tool Drive exceeded our expectations and we look forward to doing it again next year."
For more information, visit the company website at www.Sonnhalter.com or visit the company blog at www.TradesmenInsights.com.
For more information about the Greater Cleveland Habitat for Humanity visit www.clevelandhabitat.org