Viega and Sonnhalter Receive Award of Excellence for Product Launch
Viega ProPress for stainless product launch wins B2 Award.
---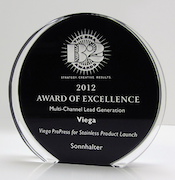 The Viega ProPress for stainless product launch received a B2 Award of Excellence from the Business Marketing Association in the Multi-Channel Lead Generation category.
The B2 Awards are an international business-to-business marketing and communications contest that recognizes excellence among top agencies and corporate marketers. Sonnhalter, a communication firm marketing to the professional tradesman in the construction, industrial and MRO markets, developed the winning launch for the Viega ProPress for stainless.
Viega ProPress for stainless steel is a pipe-joining system that uses press fittings to make air- and water-tight connections in the piping. The system is comprised of stainless steel pipe, valves and fittings in sizes up to 4 inches and makes secure connections in as few as seven seconds compared to more than an hour for some traditional pipe joining methods.
For the product launch, Sonnhalter and Viega created a plan for promoting the system as the future in pipe joining and developed several elements including print and electronic communication in trade publications, brochures, direct mail, a micro site and a comprehensive public relations plan.
"We were thrilled to receive the B2 Award of Excellence," said Adina Barnes, director of market intelligence for Viega. "We're proud to be recognized amongst the ranks of so many excellent campaigns."
"We enjoyed working on this campaign," said Matt Sonnhalter, vision architect at Sonnhalter. "Not only was it a fun project, the results of the product launch proved that it was award-winning caliber."
A panel of senior-level marketers judged more than 800 entries for the 2012 B2 Awards and selected the Viega ProPress for stainless product launch to receive an Award of Excellence.
For more information about Viega, visit www.viega.com
To learn more about Sonnhalter, visit the website at www.Sonnhalter.com or visit the company blog at www.TradesmenInsights.com.