Caulk Warmer Expands into Canada
Partners with Canadian Industrial Distributors to sell product line.
---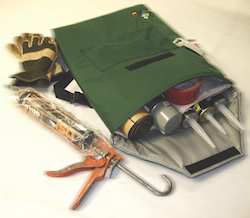 In Canada, where workers face the frustrating bitter cold winter year after year, something was needed to keep cordless tool batteries, spray foam, adhesives, caulks and sealants warm and ready to perform. Time and money are wasted using inefficient warming methods. Something had to be done. Enter the Caulk Warmer.
Reasor Products, Inc. has developed a way to avoid the problems caused by cold temperatures through its entire line of warming products, and Canadian Industrial Distributors (CID) is the ideal vehicle to spread the word and service the demand from coast to coast.
From caulk warmers, battery warmers, tank and cylinder wraps to foam hose sleeves, Reasor Products, Inc. has a way to keep temperatures optimal, and productivity high. Based out of Duluth, Minn. Reasor Products Inc., is no stranger to harsh winters.
And who better to supply Canada with these warming solutions than an all Canadian owned company? Canadian Industrial Distributors' salesmen and 1,700 dealers span Canada, specializing in effectively delivering products to the Canadian industrial and construction markets.
The Caulk Warmer is a patent pending warming bag engineered and developed in the United States of America, made in China, and tested in Nationally Recognized Testing Laboratories (NRTL).
Learn more at www.caulkwarmer.com