Igloo Creates Yukon Pro Staff Team
Pro hunters, anglers, guides, writers and athletes build Yukon brand awareness.
---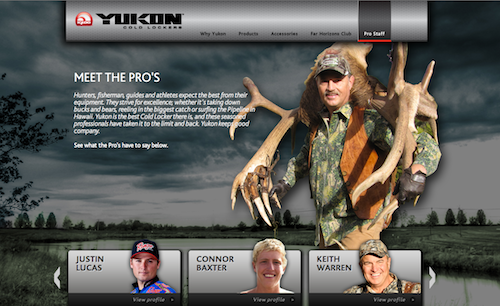 Igloo Products Corp., the nation's largest cooler manufacturer, has built a team of professional hunters, anglers, guides, writers and other athletes, called the Yukon "Pro Staff," to build awareness around the Yukon brand and participate in product testing. Igloo released the Yukon Cold Locker in early 2012 and has since seen great sell through of the product at retail.
The mission of the Yukon Pro Staff is twofold—one, to create testimony around the brand at the consumer level and two, to gain insight into the industries' end users through product testing and feedback.
David Thornhill, executive vicepresident and chief product officer at Igloo, explained, "getting product into the hands of our end users and having a direct line to what they're thinking is key to staying ahead of the curve and innovating in the high-end roto-molded cooler market. We have been told that Yukon is second to none in its feature set, and we thank our Pro Staff for much of the input."
The Yukon Pro Staff has a wide range of members- varying in age and profession. The team includes legends and new faces alike.
"From Connor Baxter, a teenage water sports prodigy, to professional outdoorsmen like professional angler Scott Suggs and professional hunter Keith Warren, this staff will bring a lot of different perspectives to our product development team and ultimately add agreat deal of credibility to the Yukon brand within the outdoor market," Thornhill added.
In its short time, the Pro Staff has already delivered plenty of feedback and praise for the Cold Locker. Baxter is both a professional surfer and stand up paddle boarder who has been commanding the current since the age of eight. At only 17 years old, he has won more competitions and titles than some people twice his age, including "2011 Men's No. 1 Male Paddler" and "2011 Junior of the Year." Baxter shared how the Yukon fits in with his intense training schedule saying, "I am always training and competing in the hottest places in the world from Hawaii to Australia. It's great that the Yukon's solid construction and insulation can keep up with whatever I throw at it."
"While we see the use of Yukon in so many different arenas, we still know that theheaviest users are coming from the hunting and fishing communities. Having so many big names in hunting and fishing showing their support of the Yukon is an honor," Thornhill explained.
Keith Warren, professional hunter and television personality was one of the first people to join the Yukon Pro Staff and hasbeen a very vocal advocate of the cold locker. Having starred in three different hunting shows over the years, Warren has seen just about every piece of equipment there is and chose the Yukon as his ultimate cooler. Warren had this to say about the product, "I'm an active outdoorsman, so I expect a lot from my equipment. Yukon has more important features that matter and lives up to its billing better than any cooler I've ever used."
"Being an FLW sponsor, we have the opportunity to meet so many professional anglers. We are actually getting so many requests from professional anglers to join that we have to turn some down," said marketing manager Jason Campos. One of the early professional anglers to join was Mike Surman. Surman won the very first FLW tournament he ever entered and has logged 18 Top 10 finishes since then. Surman said the Yukon is, "the strongest, most rugged cooler I've ever owned."
But Surman isn't the only angler speaking out in favor of Yukon, Scott Suggs, JT Kenney and countless others are sharing their reviews of the cold locker.
Suggs, an FLW Cup Champion and fan favorite, called the Yukon a "must have" for outdoorsmen and Kenney claimed that "the first thing that goes in my Chevy at the start of all of my trips is my Yukon Cold Locker."
Both Kenney and Suggs have gone on to share their ideas for new accessories that would be extremely helpful for fisherman as well as other useful feedback.