General Tools iBorescope Takes Tool Award
Tool captures and wirelessly transfers HD inspection images and video to iPad, iPhone and Android devices.
---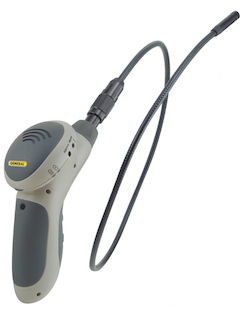 General Tools & Instruments' new iBorescope (DCiS1) is one of just ten products to receive a 2012 HANDY Innovation Award in recognition for showcasing initiative, creativity and invention. General introduced the iBorescope at the 2012 National Hardware Show.
The new iBorescope is the first and only inspection system of its kind available in North America. Using the instrument's Wi-Fi hotspot capability and a free iBorescope App, professionals and DIYers alike can instantly capture and wirelessly transfer high-definition inspection images and video to iPad, iPhone and Android devices, eliminating the need for a monitor and revolutionizing the video inspection marketplace.
The iBorescope has countless construction, remodeling and DIY applications, not to mention applications in plumbing, HVACR, automotive, home inspection and other industries.
With a retail price of $299, it offers an affordable way to visually inspect inaccessible or hazardous areas—behind walls; inside drains, pipes, ducts, appliances and machinery; under the hood and much more—and diagnose problems without the need for disassembly or teardown.
To learn more about General Tools & Instruments products, visit www.generaltools.com