Elephant Stand Voted a Best New Product at SEMA 2012
New product from Cleargain Solutions garners attention for ingenuity, functionality.
---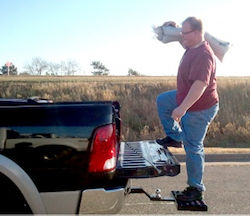 Cleargain Solutions, LLC, the makers of the new Elephant Stand Swivel Hitch, is proud to announce that it was voted one of the top new products in the Van, Pickup and Sports Utility product category at the 2012 Specialty Equipment Manufacturers Association (SEMA) Show. The Elephant Stand was chosen from over 2,000 products that were entered into the New Product Showcase and judged by a distinguished panel of industry professionals.
"We are proud to be voted one of the top new products at the 2012 SEMA show and I am happy that they saw the ingenuity and functionality that our product solution brings to the truck hitch and step market," stated Robert Wieden, President of Cleargain Solutions, LLC. "Since we leveraged the SEMA show as our official national launch event, we gained a very rabid and enthusiastic response from buyers and distributors across the U.S. and abroad, making for a very successful product launch," added Wieden.
Proudly made in the U.S., the Elephant Stand combines the patented functionality of a trailer ball hitch and a step stand that uniquely disappears under your truck bed when not in use. The "plug-n-play" unit comes fully assembled and is ready right out of the box. Just slide into an existing hitch receiver and you are good to go. Customers can even conveniently choose between three sizes of hitch balls that come with the unit. Best of all, it requires no special assembly or drilling into the frame, truck bed, or chassis.
The product was developed as a response to other inferior step pegs on the market that don't do the job; that's why the Elephant Stand Swivel Hitch is rated to hold over 600 lbs. and has a platform size that measures at a whopping 9.5" x 16" (152 square inches of stepping space). That means you get a large step platform both going up and down from your pickup bed no matter your shoe size. Consequently, with just a simple swivel and step, it will increase a person's productivity, reduce the wear and tear on a person's back and knees, and allow users to easily utilize their truck beds like never before.
Learn more at www.elephantstand.com