Work Begins on "Breathable" Tower in Pittsburgh
Double-skinned 32-story Tower at PNC Plaza will have operable windows and solar collecting roof.
---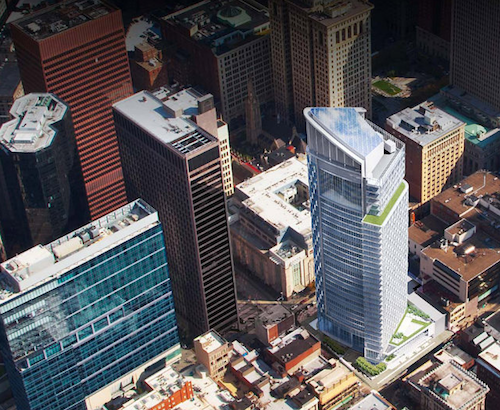 Construction has begun on the 32-story Tower at PNC Plaza in Pittsburgh. Designed by Gensler, with help from Buro Happold and Paladino & Co, the building is designed to be one of the most eco-friendly skyscrapers in the world. Slated for completion in 2015, the structure will feature a double-skin facade with operable windows to bring in fresh air and push out hot air, and a roof that doubles as a solar collector to cool the building.
PNC Financial Services is known for pushing the boundaries of sustainable design; the group already boasts one of the largest living walls on the exterior of One PNC Plaza and has 170 LEED certified projects throughout the country.
Their newest project, the Tower at PNC Plaza is expected to push even further and features an innovative, low-energy strategy to heat and cool the building. Architectural design was led by Gensler, with aid from Buro Happold for engineering and Paladino & Co for green design consulting. Working closely with PNC, the team centered their design strategies around a "three pillar" approach: energy conservation, organizational productivity, and community contribution.
The 32-story tower is grouped into "neighborhoods" with a pair of floors that features a double-height atrium that serves as a "town square" for employees to foster collaboration and a sense of community. PNC is devoted to revitalization of downtown Pittsburgh and the podium and ground floor design seeks to support a vibrant urban district. The tower's orientation maximizes on daylighting and a high performance, double-skinned facade encourages natural ventilation.
Operable windows on the facade open on days with optimal conditions (which occurs almost half of the year), and allows the building "breath" by taking in fresh air from the outside and expelling hot air out the top. The angled roof acts as a solar collector to further encourage a cooling effect. The iconic tower is set to serve as a new landmark for the city and propel green design even further. With construction underway and on schedule, the project is expected to be complete in 2015.
Click here to read more.
Source: Inhabitat.com