A Grave Discovery for Halloween
Construction crew unearths colonial gravestone.
---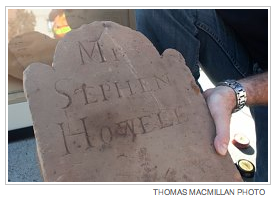 Nearly 243 years after he died, the specter of a colonial New Havener returned, as an "orphan" found alone on Orange Street.
The "orphan" is an ancient footstone from a grave belonging to Stephen Howell, a man who died in 1770. Construction workers uncovered the stone this week at the corner of Orange and George streets while working underground on a drainage project associated with the Rt. 34 overhaul nearby.
The find, just in time for Halloween, comes almost a year after New Haven's colonial past emerged in a similarly spooky fashion. Just before the All Hallow's Eve last year, a skeleton appeared on the Green, tangled in the roots of an overturned tree.
Click here to read the entire story and watch video.
Source: New Haven Independent