Paslode Issues Nail Test Results
Independent testing proves Paslode compliance, questions competitive claims.
---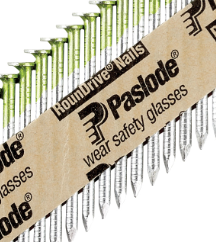 The nail is a small but mighty factor in the building process, so it is critical that building professionals and remodelers can trust they are getting what they pay for. To help shed light on code compliance and durability, Paslode enlisted a third-party, independent testing facility to assist in verifying, once and for all, which galvanized fasteners meet code requirements.
In July 2012, independent testing was conducted to compare the corrosion resilience and structural integrity of Paslode's Hot Dipped Galvanized Framing Nails alongside several top-selling nail products from leading manufacturers. The testing aimed to verify that the fasteners are building code compliant, as claimed by their packaging and consumer communications.
In order for galvanized nails to be labeled "corrosion preventative and resistant" and "building code compliant," they must have a minimum amount of zinc coating on the nail to resist certain amounts of corrosion. Additionally, to meet structural integrity requirements, the shank diameter of the fastener has to be within .004" of the stated dimensions, along with other requirements.
The third-party testing conclusively demonstrated that Paslode was the only manufacturer among those tested to pass all tests, living up to their product claims of being building code compliant and meeting the specifics of all relevant ASTM Standards.
"As the leading manufacturer of both cordless and pneumatic nailers, staplers and fastening systems, Paslode understands that today's builders and remodelers rely on durable, corrosion-resistant nails in the toughest and most demanding applications," stated Brian Benes, Market Manager. "This testing reinforces the unparalleled performance of Paslode's Hot Dipped Galvanized nails."
Corrosion Evaluation Tests and Results
To evaluate the corrosion resistance and corrosion prevention methods of galvanized nails claiming to have these features, the industry-standard Salt Fog Environment test was performed using two different sampling preparations on Paslode Hot-Dipped Galvanized nails and exterior-galvanized nails from a leading competitor in two different scenarios.
The corrosion rates were then measured for each of the two scenarios during scheduled hours of exposure, varying from 24 to 792 hours. The testing revealed that in both scenarios, the competitor's nails proved inferior to Paslode Hot-Dipped Galvanized nails, rusting 200 hours earlier.
Building Code ASTM F1667 Compliancy Test and Results
Technicians also performed testing to verify compliance for structural integrity. In order to meet the requirements of building codes, a fastener's shank diameter must be within +/- .004" of the advertised dimension. Galvanization does not count towards the diameter size requirement.
Once again, test results showed Paslode's fasteners were fully compliant with the standards. Testing also showed that some competitive products had a smaller shank diameter, outside the compliance limits, than what is claimed on the packaging.
"As a building professional or remodeling contractor, you need to trust the fasteners used to secure your work. Paslode goes to great lengths to ensure our products perform as we claim on our packaging," continued Benes. "We stand behind our fasteners to continue to provide unrivaled productivity and peace-of-mind for today's professionals."
For example, Paslode Hot-Dipped Galvanized Nails, designed to penetrate and resist corrosion in treated lumber, meet ICC Building Code Requirements as noted right on the package:
ICC-ES Recognized per ESR-1539 (formerly ER-2403 and NER-272)
Approved per City of Los Angeles RR 23633
Engineered Construction Nails, ASTM F1667
Zinc coating weight meets ASTM A153 class D
For more information, visit www.paslode.com