Maze Nails Celebrates 165 Years
Illinois-based manufacturer of Made in USA nails was launched in 1848.
---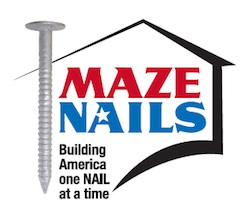 Maze Nails proudly announces its 165th year in business. The company was launched in 1848, the year that Abe Lincoln was elected to Congress and the year gold was discovered in California.
Maze is now in its sixth generation of family ownership. According to fifth-generation company president, Roelif Loveland, "It is because of our customers' great support and enthusiasm for stocking, selling and using our meticulously engineered and manufactured line of specialty nails 100 percent Made in the USA that we are still in business today."
Since being featured on the Diane Sawyer ABC Made in America series, proud Americans from every part of the country have called in support of Maze – and the company's commitment to making quality nails right here in the USA. The Made in America series has created a trend and a passion to keep jobs in America.
"As one of the last remaining nail manufacturers in the U.S., we are proud to support the 'Buy America Challenge,'" Loveland said. "If builders, contractors and remodelers simply purchase 5 percent more American made building products, a whopping 220,000 jobs would be created right here in the U.S. Let's join the efforts to rebuild America, one nail at a time!"
Learn more at www.mazenails.com