U.S. Exports Set Record in 2012
All time high $2.2. trillion sets new benchmark.
---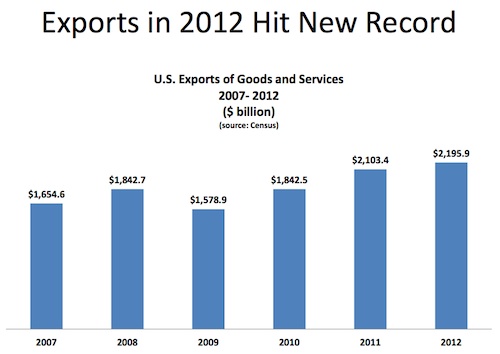 U.S. goods and services exports reached an all-time record in 2012, totaling $2.2 trillion. Export records were seen across the board, including in capital goods, automotive vehicles, parts, and engines; consumer goods and travel and tourism.
This announcement follows the release of the 2012 U.S. International Trade in Goods and Services data by the Commerce Department's Census Bureau and Bureau of Economic Analysis.
Francisco Sánchez, Under Secretary of Commerce for International Trade and Mark Doms, Under Secretary of Commerce for Economic Affairs noted in a blog that, "This represents more than just numbers on a spreadsheet; it's further proof that "Made in the USA" products are in demand all over the world. It also means that more U.S. businesses are seizing the great opportunities in the global markets, continuing to help pave our nation's road to economic recovery."
Click here to download the DOC's Year in Review report.