ITW Launches New Dymon Aerosol Packaging
New aerosol cans reduce stress on the worker and feature eye-catching graphics.
---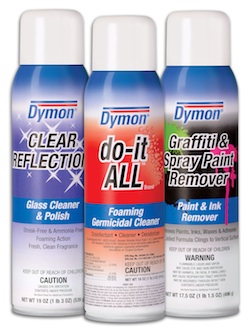 With eye-catching graphics and a new ergonomic design, ITW Professional Brands today launched new packaging for its Dymon brand aerosol products. The new "bullet can" packaging makes the products easier to grip and spray, minimizing stress on the worker.
"We conducted extensive research to understand how packaging can make the process of cleaning less strenuous on the body," said Rich Bucher, director of marketing, ITW Professional Brands. "And with new graphics, distributors can differentiate their product lines and ensure their solutions stand out from the competition."
ITW Professional Brands offers new packaging for aerosols within all of its Dymon brand product lines. This includes disinfectants and deodorizers, enzymes and odor control products, furniture and metal cleaners/polishes, general cleaner, glass cleaner, restroom cleaner, graffiti remover, floorcare products, degreasers and insecticides.
In addition to new packaging, several of the Dymon brand products feature enhanced formulations and features. For example, the Clear Reflections Glass Cleaner is now ammonia free and offers enhanced foam for better vertical cling and greater coverage. The do-it ALL Foaming Germicidal Cleaner features new kill claims including MRSA. The END Insecticide line features a horn actuator which is a cap-less design.
For more information about ITW Professional Brands, call 1-800-443-9536.