IronPlanet Celebrates 13 Years of Online Auctions
IronPlanet hosts 13th anniversary auction today.
---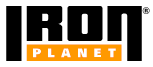 "We're very excited to celebrate the 13 years of growth we've accomplished since our first auction," said Greg Owens, CEO, IronPlanet. "Since 2000, more than 900,000 registered users around the world have joined IronPlanet, selling over $3 billion of equipment. We will continue to lead the way by providing the premier online-only marketplace for buyers and sellers of used equipment."
IronPlanet's first auction consisted of one seller, 32 bidders and 22 items. Last week's IronPlanet U.S. auction featured 953 items from 200 unique sellers marketed to more than 1,900 bidders in 44 countries. Today, IronPlanet hosts weekly online auctions in the U.S. and monthly online auctions in Europe for buyers and sellers in the construction, agriculture and trucking industries.
For more information about IronPlanet and its 566-item auction being held today, visit www.ironplanet.com.