Wacker Neuson Promotes Infrared on the Job Site
Versatility and operator safety are key features of infrared.
---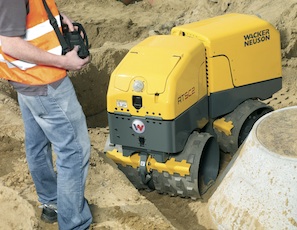 Wacker Neuson remote-controlled compaction equipment is designed with safety in mind, offering added protection to operators and the jobsite. Wacker Neuson offers an infrared remote control system that requires the operator to maintain line-of-sight view with the equipment at all times.
When the operator is visually alert to the equipment and surroundings, it significantly reduces the risk of anyone getting inadvertently injured.
This line-of-sight control combined with a built-in safety zone that stops the machine should the operator come within about 6 feet (two meters) of the machine makes Wacker Neuson's SC (Smart Control) system an excellent choice for a jobsite risk management package.
The patented infrared remote control system can be found on Wacker Neuson's popular RT trench roller and reversible plates. The RT set the industry standard for trench rollers with below the axle exciters and over 15,000 pounds of total dynamic force.
The DPU 130 reversible plate is the most powerful plate in the industry and is capable of doing the work of a 7-ton roller while retaining the maneuverability of a vibratory plate.
With these powerful machines moving on the jobsite, it is important to keep an eye on safety by using the infrared remote control system. Wacker Neuson's system eliminates equipment moving into dangerous blind spots that can occur when using competitive radio controlled units. Radio control remote systems do not require line-of-sight operation and the machine will keep moving if the operator is distracted and turns away from the machine, or it the machine moves behind obstructions.
Wacker Neuson's infrared remote control features a 16-channel transmission which allows for multiple machines to be used on the same jobsite without the threat of interference with one another.
The infrared system is not subject to radio interference from other jobsite systems such as cranes, boom pumps and other radio control equipment. The infrared remote control box is easy to operate with two joystick levers and is fully enclosed protecting it from moisture and dirt.
For more information visit: www.wackerneuson.us/en/infrared-tech