Rigid Lifelines Launches Comprehensive Product Catalog
New catalog features Griffin and Rolling A-Frame lines plus XSPlatforms rooftop fall protection systems.
---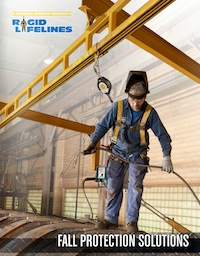 Rigid Lifelines, a leading provider and manufacturer of engineered fall protection systems and accessories, announces the launch of their first comprehensive product catalog.
Experience 76-pages of vibrant photos and illustrations to learn more about the newest Rigid Lifelines products. The expanded line of portable systems includes the Griffin, Rolling A-Frame, and weighted Swing Arm to provide mobile fall protection for almost any location. Also keep on the lookout for XSPlatforms rooftop fall protection systems and the automatic-braking Anchor Trolley.
"The addition of a comprehensive product catalog to our collection of literature is an invaluable support tool for our dealers," said John Kemp, National Product and Sales Manager at Rigid Lifelines. "Our goal is to make it as easy as possible for dealers to communicate the importance of proper fall protection in the workplace."
To view an online PDF version of the Rigid Lifelines catalog, please click here.
To learn more about Rigid Lifelines products, please visit www.rigidlifelines.com.