Jobsite Efficiency Heralded as 2013 Building Industry Trend
Bosch debuts new tools and technology at National Hardware Show to save tradesmen time, money.
---
Jobsite efficiency is a major trend to watch this year in the home improvement and building industry, as evidenced by the efficient new products on display at this week's National Hardware Show in Las Vegas. Bosch Power Tools was on hand for the annual tradeshow and showcased several new tools and technologies to aid tradesmen in saving time and money.
"Product development at Bosch includes direct interaction with our customers. There's a lot of talking and listening to contractors so we can bring relevant innovation to the market," said Kevin Enke, director of marketing, Robert Bosch Tool Corporation, Accessories. "Sometimes it's as simple as pushing productivity with added speed or durability, other times it's creating new solutions to do something in a different way that's easier or safer. But the key is saving time and money, both in the short term and in the bigger picture, by avoiding any rework down the road."
Four key areas were identified as the major contributors to jobsite efficiency in the building industry at NHS: engineering efficiency, high-productivity accessories and attachments, the continued expansion of multi-tools and connectivity.
Engineering Efficiency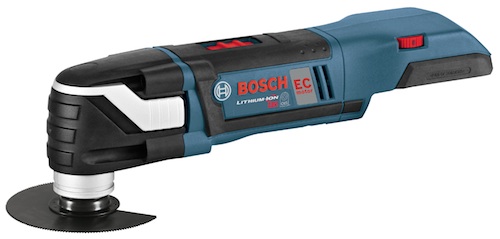 Like most technology these days - computers, smart phones, TVs - tools are packing a bigger punch in a more compact space thanks to innovations in engineering. Bosch debuted its latest engineering feat at NHS with the introduction of the new 18-volt cordless MXH180BL, the first oscillating multi-tool to hit the market with a brushless EC motor. The tool is part of the expanding Bosch CORE system, featuring internal technology that delivers up to three times longer life, 30 percent more power, 65 percent longer run time and integrated electronics for superior control and motor life.
This trend is also evident in the measuring tools sector where tools are trending toward more compact sizes that are simple and easy to transport, setup and operate on a jobsite. Bosch recently introduced the GLM 50 to the market - the most complete laser distance measurer in its class. The compact tool measures distances of up to 165 feet with 1/16-inch accuracy and features an intuitive seven button keypad for easy use. It tracks data using the five most common measurement modes: length, area, volume, indirect and continuous measurement modes.
High-Productivity Accessories and Attachments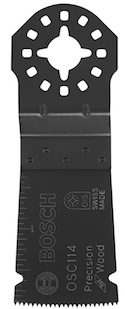 High-productivity accessories and attachments are essential to a smart tool system. The right accessory or attachment can make jobs quicker, easier and more efficient, saving workers both time and money. Bosch's commitment to innovation is evident in its newest addition to the multi-tool category, precision tip oscillating blades.
Precision tip blades offer two primary advantages over conventional blades: The curvature of a precision tip delivers better debris removal and a greater metal thickness at the interface provides increased vibration control. For the end user, this means greater control and accuracy where the accessory meets the work piece, equating to less time and materials spent on re-dos.
All three blades in the new line, OSC114, OSC114F and OSC114JF, offer the advantages of the Bosch Oscillating Interface System (OIS™), which features a 12-pin structure that can be used on every professional brand of multi-tool without the need for an adapter.
In addition to bits and blades that affect tool performance, attachments that influence how a tool is positioned or held by the user also impact its effectiveness. Bosch showcased a new tool attachment - the new BS 150 Compact Tripod - at NHS, which provides accuracy and time savings to jobsite measuring projects. Combined with the GLL3-80 360° 3-Plane Leveling and Alignment Line Laser, these tools offer a complete laser leveling system right out of the box.
Multi-Tools
The ability to tackle multiple applications with a single tool is another trend that continues to impact jobsite productivity this year. Using just one product, instead of several, means less down time transitioning between tools. Bosch measuring tools continue to advance this trend with multi-tools such as the GCL 25 five-point self-leveling alignment laser with cross-line; GLM 80 + R 60, which transforms from a unique measuring rail into the world's first combination of laser rangefinder and digital level; and GLL3-80, which replaces up to four lasers with one tool - a 6-point, tile, cross-line and rotary laser (dependant on range required).
Tool users are also getting these benefits from Bosch oscillating multi-tools and accessories, which combine to tackle a wide range of applications, including cutting, scraping, grinding and sanding, with just one tool. With the Bosch toolless accessory change lever on the Bosch MX30E and MXH180BL, switching between tasks is as simple as pulling a lever without worrying about losing tools parts while changing blades.
Connectivity
Contractors' use of smartphones on the jobsite jumped 35 percent from last year, with nearly 70 percent of contractors now using smartphones as part of their workday, according to a recent survey by EMA Contractors. With this new knowledge comes the opportunity for brands to provide time-saving solutions to help contractors leverage their smartphone technology to its full advantage on the jobsite.
Bosch gave NHS attendees a preview of its new mobile application, designed to elevate project management, increase jobsite productivity and eliminate the need for dated pen and paper notes. Available later this summer for both Android and IOS operating systems, the free Bosch Toolbox includes a number of time-saving, practical applications. Among the highlights include a measurement camera, unit converter, flashlight, dealer and service locator, timesheet entry capabilities and the ability to document and organize building projects utilizing voice memos and photos.
Bosch is continuing to evaluate integrations between tools and smartphones with more innovations to come.
"It's an exciting time in the building industry as new products come online to make every aspect of construction more efficient and safer," said Enke. "At Bosch, we believe that the industry's commitment to innovation will encourage users to employ the best technologies on their worksite - whether that's advanced fastening systems or new materials. And everyone benefits in that scenario, particularly the end user."
Learn more at www.boschtools.com